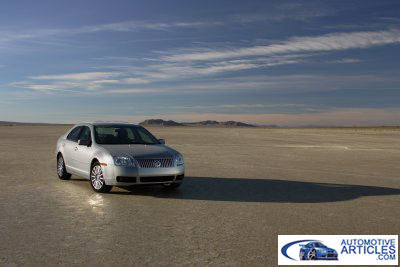 Courtesy: Lincoln Mercury

What happens when your company finally has a midsize sedan thatís a bona-fide hit with the media? You capitalize, thatís what. Ford is doing exactly that with its critically acclaimed Mazda6 midsize sedan. The stylish Japanese car has become an enthusiast favorite thanks to its edgy looks and handling prowess, inspiring Ford Motor Company to utilize the platform throughout its lineup. Three new variants will soon be available to American consumers, the Ford Fusion, Lincoln Zephyr, and the Mercury Milan Ė introduced at the Chicago Auto Show.

While the Ford is the affordable, every-manís car and the Lincoln is the expensive luxury model; the Mercury is the middle child that appeals to those who donít want to pay top dollar but donít want to drive what everyone else is driving. It seems that Mercury finally realizes that it is out of the mainstream volume brands and it shouldnít even try to go after that market. Smart move.

First off, this clearly is no Sable. Since itís based on the Mazda6, handling at the very least should be controlled Ė if not downright sporty. Now thereís an S-word you never wouldíve associated Mercury with. Itís got the familiar 160hp 2.3 Liter Duratec 4 cylinder and 210hp 3.0L Duratec V6 engines, so this sedan wonít be setting any straight-line performance records. A nice 240hp 3.5L V6 to compete with the likes of Nissanís Altima and Hondaís Accord would be nice, though.

The exterior is quite contemporary, for a Mercury. The lines are clean, and the front end is definitely showing signs of a new Mercury family identity. The rear end, however, is a bit bulky, though the LED taillights are cool Ė if big. It wonít exactly set the midsize sedan world afire, but it does have a nice conservative look to it Ė kind of like a well-tailored suit.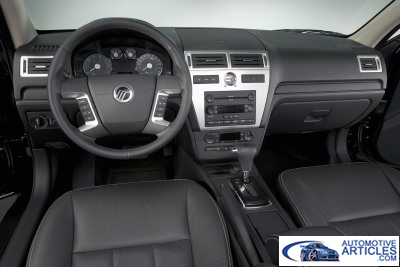 Courtesy: Lincoln Mercury

The interior is where this new Mercury really shines. It appears that Ford has finally allowed its European division (home to some really great interior designers) to influence American interiors. Again, the look is very clean and buttoned down. While itís not likely to rival Audi anytime soon, itís nice to see that Ford is on the right track. Satin metallic trim or interesting Wales Mahogany wood trim complete the austere look.

Overall, itís a nice effort by Mercury to differentiate the Milan from its Ford and Lincoln counterparts. Whether or not itís enough Ė thatís another story. The midsize sedan market is very competitive, very fickle. More power, more style, and less ass might help this four-door compete a bit better; but as it is itís still a much better sedan than the outgoing Sable. And better is always better, right?

2006 Mercury Milan Debuts at Chicago Auto Show

Source: Lincoln Mercury

The Mercury Milan represents the new entry point to the Mercury brand, offering a distinctive design in the traditionally cookie-cutter mid-size sedan segment Ė a formula expected to draw even younger customers to Mercury's youth movement. With advanced safety features, an engaging driving experience and premium content, Milan sets itself apart from the mainstream.

In addition, by utilizing innovative engineering and cutting-edge technologies, Milan delivers spirited performance and advanced safety along with good fuel economy and clean emissions.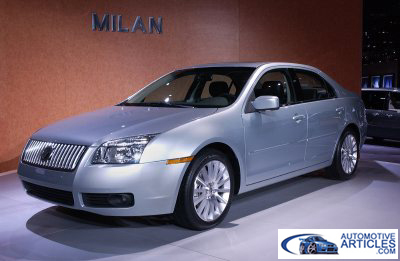 Courtesy: Lincoln Mercury

NO COMPROMISES: Comprehensive safety in mid-size sedan package

Customers shopping in the mid-size market are often forced to make compromises, especially when it comes to a comprehensive safety package. The economy and efficiency of a mid-size sedan appeals to them, but they also want a safe vehicle Ė especially when sharing roads with full-size sport-utilities and pickup trucks.

In that regard, not only does Milan deliver with its robust, intelligently designed structure and a long list of safety technologies Ė such as Ford Motor Company's Personal Safety Systemô Ė but it also is available with advanced, side-curtain air bags and structural technologies that help Milan achieve a high-level of side impact performance.

SAFETY FIRST: Advanced air bag systems help make Milan safer

An optional package of side air bags includes seat-deployed torso air bags for front occupants, as well as side air curtains that help provide enhanced head-protection coverage over the entire length of the window glass area Ė for both front- and second-row outboard occupants from the A-pillars to the C-pillars.

Milan's side air curtains also feature "roll-fold" technology Ė a Ford Motor Company exclusive in the mid-size segment. If an occupant is improperly seated and resting his or her head against a window, the air bag is designed to slide between the glass and occupant as the air bag inflates.

MODERN ARCHITECTURE INSPIRATION: Style that has substance

On the exterior, Milan offers a modern design that is distinct from the typical, unassuming mid-size sedan. The sophisticated front end features signature Mercury design cues, such as unique, quad-projector beams that anchor the satin aluminum-finished waterfall grille, while the use of parallel character lines creates a smooth, contemporary appearance.

On the interior, Milan offers high-end appointments, including a two-tone, Dark Charcoal on Light Stone motif with a satin-aluminum finished center stack for a technical appearance. A Wales Mahogany Wood appearance on the instrument panel accents and the center finish panel is available for a warmer ambiance. Built on Ford's global CD3 architecture, Milan offers surprising spaciousness for its tidy exterior dimensions and sleek design execution. In fact, Milan challenges the class leaders in key areas such as front shoulder room, rear seat legroom and trunk space.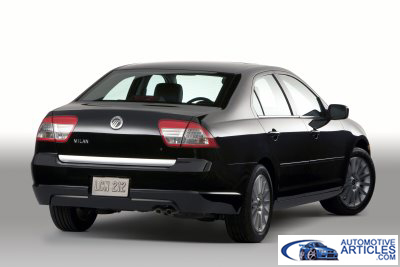 Courtesy: Lincoln Mercury

DESIGNED FOR DRIVERS: Agile driving for quick-changing city traffic

Milan offers young, cosmopolitan Mercury customers a confident city cruising character complemented by engaging open-road driving manners that set it apart from other mid-size sedans lacking driving ťlan. With exceptional torsional rigidity that is 12.7 percent stiffer than the original CD3 architecture on which it is based, Milan offers a compliant ride and boasts handling that is refreshingly different from the competition. Four-wheel power disc brakes are standard on Milan, and a four-sensor, three-channel anti-lock braking system with electronic brake force distribution is optional, as is engine-controlled traction assist.

A true driver's car is defined by its engine, and Milan offers a choice of Ford's 2.3-liter Duratec 23 PZEV I-4 or 3.0-liter Duratec 30 V-6. Both feature all-aluminum construction, dual overhead cams, four valves per cylinder, intake variable cam timing and electronic throttle control to deliver smooth, spirited performance along with good fuel economy and emissions ratings.

The four-cylinder engine delivers 160 horsepower, and can be paired with a five-speed manual or automatic transaxle. Also good news for the environment, the Duratec 23 I-4 will be rated as a Partial Zero Emissions Vehicle (PZEV) in California. It will be joined this fall by the 2006 Mariner Hybrid as the first two Mercury PZEV applications. For even more power, there's the 210-horsepower 3.0-liter V-6, which is paired with an advanced six-speed automatic transaxle, a rarity in the mid-size sedan segment.

The Duratec 23 is expected to earn an EPA highway rating in the low 30-mpg range, while the Duratec 30 should be rated in the high 20-mpg range.