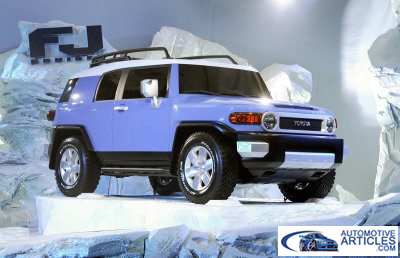 Courtesy: Toyota

What comes to mind when you think of Toyota vehicles? Reliability and quality? Probably. Fuel economy? Maybe. Excitement? Probably not. With few exceptions, Toyotas have not exactly been known of as a lineup of automobiles that sets your heart aflutter. They've stuck to the conservative side of the spectrum when it comes to styling and performance and, for the most part, it's been hugely successful for them – at least in America. You want Japanese excitement; it's best you stick with Nissan, Mazda, or even Honda.

Well, it might be time for a change of attitude about Toyota. Think of them as that pretty Catholic school-girl that grew up and went to college. No, we're not talking about nights of wild frat parties followed by mornings of clutching the commode. Still, things are about to get interesting in here as Toyota finally takes on its major fault: an image as being perfectly bland.

The new Scion lineup of youth-oriented vehicles was the first sign of this new mindset. New Lexus models like the GS and IS will be the next step. And here comes a curveball now, the 2007 Toyota FJ Cruiser. One look at this truck and it's clear this isn't your mother's Highlander.

Think of it as the spiritual successor to the cult-hit 1958 FJ 40 Land Cruiser. Clearly, the retro touches are there, especially up front where a prominent "TOYOTA" badge replaces the typical "cowboy hat" stylized-T logo. The bulging, squared-off fenders and upright greenhouse would almost seem too Hummer-like if it wasn't for the fact that this Toyota does have quite the legacy. Overall, it's quite hard to describe the FJ Cruiser, so we'll just let you look it over and decide for yourself. One note: check out the three windshield wipers.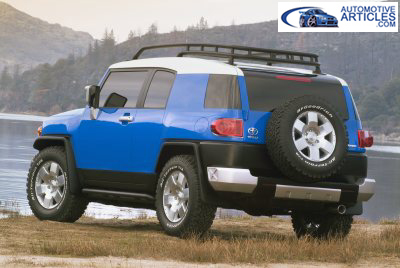 Courtesy: Toyota

Interior photos weren't immediately available, but Toyota describes it as a placed designed for "basic functionality and flexible utility." There's exterior color-matching trim and round inset instrumentation. The steering wheel, door panels, and center-mounted shifter were designed to be rather tool-like, but we'll just have to wait to see what that means, exactly.

Power comes from a 4.0 liter V6 good for 245hp and 282 lb-ft of torque. A 5-speed automatic is available on 2WD and 4WD models while a 6-speed manual is optional only on 4WD models. The platform underpinning the FJ Cruiser is modified version of the one under the 4Runner and Lexus GX470, with standard 17-inch wheels, vehicle stability control, traction control, anti-lock brakes with electronic brake-force distribution and brake assist, and automatic limited slip differential on the 2WD model.

While we can't decide whether or not we like the FJ Cruiser, we do like that Toyota's taking some chances. Hopefully, for their sake, enough people will fall in love with this truck to inspire Toyota to take a few more chances on, say, a new Supra or something. The FJ Cruiser goes on sale early next year.

Toyota Moves Forward With Unveiling of All-New FJ Cruiser Sport Utility Vehicle at 2005 Chicago Auto Show

Source: Toyota

Toyota unveiled the all-new FJ Cruiser sport utility vehicle (SUV) at a press conference today at the 2005 Chicago Auto Show. The overwhelmingly positive response to the FJ Cruiser concept, developed two years ago, prompted Toyota to launch a production version of the SUV. The all-new production model retains much of the design details of the original concept.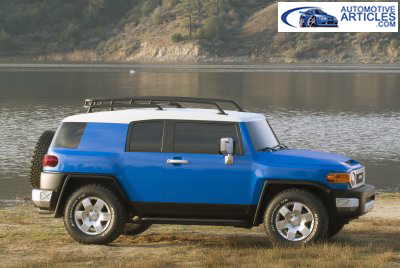 Courtesy: Toyota

"The FJ Cruiser effectively fills a gap in the Toyota lineup which was once our core heritage - capable, affordable and durable vehicles that are youthful, fun-to-drive, aggressive and tough," said Don Esmond, senior vice president and general manager, Toyota Division. "The FJ Cruiser will deliver true off-road ruggedness, image and performance at a very low price, making it highly accessible for a large volume of young buyers."

The final production design of the FJ Cruiser was a joint project by Toyota Motor Corporation and Calty Design Research, which developed the original concept vehicle shown at the North American International Auto Show in 2003. Chiseled from nearly a half-century tradition of tough off-road performance provided by the legendary FJ 40, the original 4Runner, and 4x4 compact pickups, the FJ Cruiser was developed as a basic, capable and affordable off-roader aimed specifically at young buyers with active outdoor lifestyles.

The FJ Cruiser takes on an authentic functional form, yet adopts several styling cues from the original FJ 40. Some of these cues are notable on the front end by its wide grille with "Toyota" logo badging, round headlights, and offset combination lamps. Additional inspiration can be found through its upright windshield and white cap roof. Traits are also noticeable in the rear with wrapping rear corner windows. The modern shape of the FJ Cruiser is woven into a compact package set on a wide track, producing enhanced stability and a powerful stance.

Utility features include a two-part rear hatch with flip-up glass, black overfenders with mudguards, and silver painted bumper extenders, mirrors, door handles and skid plate. Easy rear passenger entry into the two-door SUV is achieved with rear access doors.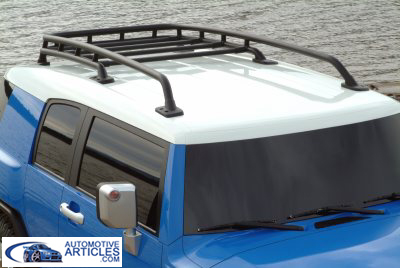 Courtesy: Toyota

Power is supplied by a 4.0-liter V6 engine, generating 245 horsepower and 282 lb-ft. of torque. The engine is paired with a five-speed automatic transmission on both 4x2 and 4x4 configurations and an available six-speed manual on 4x4 models.

The five-passenger FJ Cruiser rides on a modified 4Runner platform and features 17-inch steel wheels and four-wheel disc brakes. Just like all of the SUV's in Toyota's line-up, the FJ Cruiser will be equipped with the Star Safety System which includes Vehicle Stability Control (VSC) and traction control (TRAC), an anti-lock brake system (ABS) with electronic brake-force distribution (EBD) and brake assist as standard. All 4x2 models will come with a standard automatic limited slip differential (ALSD).

The tough and straightforward theme of the FJ Cruiser is extended to the interior with a cabin designed specifically for basic functionality and flexible utility. The instrument panel features an exterior color trim, adding to its sophisticated, handcrafted appearance. The faceplate with round inset instrumentation communicates a mechanical appearance. The steering wheel and center-mounted shifter, and attached-look door panels feature tool-like simplicity. The rear seats fold flat, creating ample cargo space and maximum usability.

The interior will be equipped with an array of standard convenience features including air conditioning, AM/FM CD audio with six speakers, tilt steering wheel, four cupholders, passenger seat back pocket, and an upper dash-mounted map/glove box.

Additional optional equipment includes 17-inch aluminum alloy wheels, rear differential lock, electronic four-wheel traction control (on 4WD models only), running boards, rear sonar backup assist, front seat-mounted side airbags and front- and rear-side curtain airbags, daytime running lights, power outside mirror with image lights, cruise control, AM/FM CD audio with a six-disc changer, equalizer and eight speakers, leather-wrapped steering wheel with audio controls, multi-information display, exterior color door insert panels, privacy glass, and rear wiper.

"Toyota is responding to the needs of a new generation of buyers with a modern interpretation of a Toyota classic, combining Toyota heritage with the safety and refinement requirements of today's market," said Esmond.

The Toyota FJ Cruiser will reach Toyota dealerships in early 2006.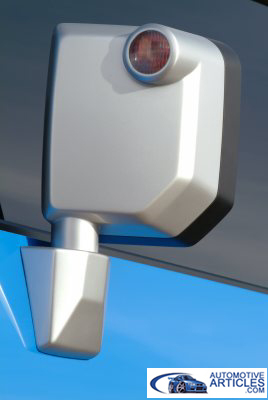 Courtesy: Toyota

TOYOTA FJ CRUISER VEHICLE PRELIMINARY SPECIFICATIONS


POWERTRAIN


4.0 Liter V6 – 245 hp /282 torque

5-speed automatic

Available 6-speed manual in 4x4

DIMENSIONS (inches)

Overall Length: 177.6

Overall Width: 74.6

Overall Height: 70.9

Wheelbase: 105.9

Ground Clearance: 9.6

Wheels: 17 inches black steel wheels w/full size spare
Available alloy wheels (5)

Tire Size: 265/70R17

Towing Capacity: 5,000 lbs.

Seating Capacity: 5