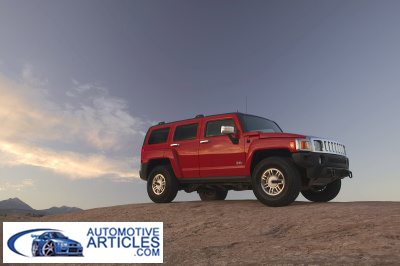 AutomotiveArticles.com File Photo

Riding a wave of publicity generated by its "You pay what we pay, GM Employee Discount for everyone" incentives campaign, General Motors reported a 41% year-over-year increase in vehicle sales for the month of June.

GM dealers in the United States sold 558,092 cars and trucks last month, including what the company says is an "all-time industry record" for truck sales – 382,601, up 68%. Full size GM pickups sales were up 102%. The incentives program, which offered buyers the opportunity to pay the same price on vehicles that GM employees pay, appears to have had less of an impact on car sales. Despite several new recent new vehicle introductions, including the Cadillac STS, Chevrolet Cobalt, Buick LaCrosse, and Pontiac G6, car sales were up a modest 4% to 175,491.

"We had great results across the board in June, and our truck business was exceptionally strong," said Mark LaNeve, GM vice president, North America Vehicle Sales, Service and Marketing. "We see this as an indication that America's desire for trucks and SUVs is still a strong force in the marketplace."

Thanks largely in part to last month's strong showing, GM's year-to-date sales are up 2.5%, with trucks up 6% and cars down 3%.

"We were confident that our 'Employee Discount' program would hit a responsive cord, but we were a little surprised by just how strong the results were, including bringing over one hundred and fifty thousand new customers into the GM family in June," LaNeve said.

By division, Buick was up 31.1%, Cadillac up 63.8%, Chevrolet up 42.5%, GMC up 84.8%, Hummer up 198.6%, Pontiac down 17.4%, Saab up 57.2% , and Saturn was up 33.4% Of note, the new Hummer H3 sold 3,841 units in June and helped lift sales of the established H2 31% compared to year-ago levels.

Over at Ford Motor Company, sales (not adjusted for an extra selling day) were up just slightly, a .7% increase to 289,449 cars and trucks sold by Ford, Lincoln, Mercury, Jaguar, Land Rover, and Volvo dealerships. Unlike at GM, cars were the driving force behind Ford's increase. In the company's largest increase in car sales since December 2002, numbers were up 8.5% to 100,438 cars sold in June.

"We're pleased with the overall result this month," said Steve Lyons, Ford group vice president North America Marketing, Sales and Service. "On the car side, we are benefiting from the new products we introduced late last year. We expect to build on this momentum when the new Ford Fusion, Mercury Milan, and Lincoln Zephyr debut this fall."

Ford's biggest success, obviously, is the new Mustang. Sales for the month of June totaled 14,470 – an 80% increase year-over-year. The Ford Freestyle crossover also posted its best sales month so far, with 6,820 units sold.

Truck sales were off 3%, led by a 3% decline in F-Series sales, a 26% drop in Ranger sales, and a massive 50% falloff for the Freestar and Monterey minivans. By brand, Ford was up 2.9%, Mercury down 8.6%, Lincoln down 12.5%, Jaguar tumbled 31.5%, Volvo slipped 5.6%, and Land Rover climbed 15.3%.

Ford's Japanese affiliate, Mazda, reported an 18.2% drop in overall sales to 22,063 units. Cars were off 17.3% to 16,234 and trucks were off 20.4% to 5,829 units sold in June. Surprisingly, the Mazda3, Mazda6, and RX-8 were all down, 12.3%, 15.5%, and 42.7% respectively. No reply from Mazda was issued to AutomotiveArticles.com at the time of this publishing.

The Chrysler side of DaimlerChrysler reported a 1% year-over-year increase for the month of June, bringing that month's sales total to 220,032 units.

"We achieved our seventh consecutive quarter of year-over-year sales growth and all of our key product segments such as minivans and sports tourers performed well, while overall company sales growth improved over last year," said Gary Dilts, Senior Vice President - Sales, Chrysler Group. "Our performance this quarter and year-to-date gives us nearly two years of consistent, steady growth."

Despite strong competition from Toyota and Honda, Chrysler's minivans posted a 12% increase in sales to 44,747 units. The Chrysler brand increased sales 16% 65,594 units in June. At the Dodge division, sales fell 15% to 107,997 units. However, sales of the all-new Charger hit 4,354 units. Finally, Jeep surged 33% to 46,441 units based on strong sales of Grand Cherokee, which was up 78%.

Japan's largest automaker, Toyota, reported a 10% increase in June, to 194,875 units.

"June's robust sales reflect a strong market driven by rising consumer confidence and good values in the showroom," said Jim Press, TMS president and COO. "Our fuel-efficient product strategy continues to pay dividends."

The Toyota division pulled in its best June ever, with a 10.2% increase to 168,832. Lexus also posted its best June ever, rolling out 26,043 units – an 8.6% increase. Over at Toyota, the Avalon (up 183.1% to 9,134 units) and Prius (up 119.3% to 9,622) led the division's passenger cars to a 12.5% increase. Toyota division trucks were up 7.3% to 72,022.

Lexus cars were up 10.7% to 12,820, thanks to the GS300 (with a 341.7% increase to 2,701) and GS430 (a 370.1% increase to 616 units). Trucks were up 6.5% to 13,223 with help from the RX300 and hybrid RX400h (combined sales of 10,015, up 9.9%). Of interest, the RX400h reported sales of 2,605 units in June.

The Scion brand celebrated two years of sales with its best June ever – 12,859 units sold. The tC coupe accounted for more than half of that, with 6,706 units sold. However, both the xA and xB posted double-digit decreases in June.

Honda, Japan's number-three, posted new June records for total vehicle and light truck sales. Overall, American Honda posted an increase of 4.7% to 126,416 units sold. Light trucks were up 20.2% to 54,137 units. The Honda division was up 3.6% to 107,672, though car sales were down 6.5% thanks to soft Accord and Civic numbers. The Acura division was up 11.4% to 18,744 units thanks to strong sales for the RL (up 235.9% to 1,565 units) and TSX (up 7.3% to 3,085 units).

Nissan North America, the US arm of Japan's number-two automaker, reported its best June sales ever, with a 14.2% increase to 92,781 units. The Nissan division reported a 14.3% increase to 81,158 units thanks to strong sales of the Altima, Pathfinder, Murano, and Armada. The Infiniti division was up 13.3% to 11,623 units sold thanks to the G35 coupe, FX, and QX56. 2,480 copies of the all-new M sedan rolled out of Infiniti dealerships in June.

Struggling Mitsubishi saw its June sales figures inch up 2% to 10,621 units, thanks to the all-new 2006 Eclipse coupe – which sold 2,140 units.

"We are 'thrilled' with the successful launch of the new Eclipse," said David Schembri, executive vice president of sales and marketing at Mitsubishi Motors North America. "This combined with our year over year increase in retail sales is a solid indication that Mitsubishi has turned the corner in the U.S. market."

Over at South Korea's Hyundai, sales rose 4.1% to 43,051 units thanks to the new Sonata sedan. DaimlerChrysler's Mercedes Benz reported a 4.3% increase while its Chrysler group announced its plans to offer employee-discount pricing to counter GM.