Perhaps no car can represent its entire brand better than the Mazda Miata has. It's the character-full little car that could, representing Japan's character-full little car company that could. Never big on power, the Miata has always been about pure finesse and a whole lot of fun. But now, the aging classic that sparked a revival of roadsters in America is being replaced. And the name synonymous with Mazda may be going away for good.
The entirely new Mazda MX-5 still looks the part, with its classic proportioning and simple front and rear facias. However, this new roadster departs a bit from the classic Miata Coke-bottle shape in favor of a trendier lozenge-shaped fuselage and more aggressive wheel-oriented forms. The basic look is sleek, attractive, and classy; with more than a hint of Jaguar in its minimalist body sides. Clearly, Mazda designers kept in mind the fact that the current Miata has had a sixteen-year lifespan. This new shape, with moderate touchups, could last just as long.
Perhaps the Miata's single largest appealing factor to enthusiasts was its size, or lack thereof. The new MX-5 has grown, but rest assured – it's still fairly compact. The wheelbase is up 2.6 inches, the front track is 3 inches wider, and the rear track has grown by 2.1 inches versus the Miata. However, length and height have only increased by about .8 inch, though width is up 1.6 inches. Besides improved handling, the biggest plus coming from the increased width is that there's now room for side impact airbags. Though it's hard to tell how much help they'll be when you're being run over by an Armada – Nissan Armada, that is.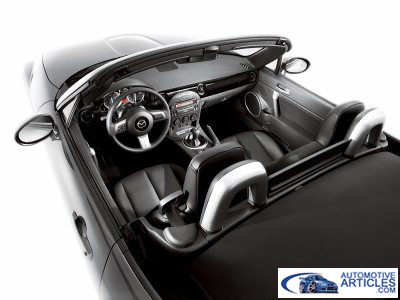 Courtesy: Mazda North America

Worldwide, the MX-5 will come with a 1.8L four cylinder and a new 2.0L four cylinder, both of the MZR series. The 2.0 may be the only option for Americans, however. That's not a bad thing, as it features about 20 more horses than the outgoing 1.8, for a total of around 160. Torque should be around 140 lb-ft. Both a 6-speed manual and 6-speed automatic will be available, with the automatic featuring steering wheel-mounted paddles for the manumatic mode.

The new MX-5 should go on sale in the United States later this year; prices have not yet been released.
THE ALL-NEW MAZDA MX-5 DEBUTS AT 2005 GENEVA MOTOR SHOW
Source: Mazda North America
Evolution of an Icon
On February 9th, 1989, Mazda Motor Corporation made history, when it unveiled the Mazda MX-5/Miata at the Chicago Auto Show. Mazda had reinvented and reinvigorated the lightweight roadster with a formula that defined affordable, fun cars for decades.
Sixteen years later and Mazda's relentless pursuit of fun has never waned, with the Hiroshima-based company continuing to develop and evolve the classic concept of the two-seat roadster. With the global debut of the all-new, third-generation Mazda MX-5 at the 2005 Salon International de l'Auto in Geneva, Mazda once again demonstrates that producing a simple, lightweight sports car is fundamental to the soul of the car maker—the result is the ultimate roadster and the purest expression yet of Zoom-Zoom.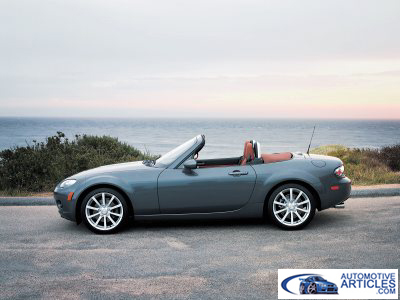 Courtesy: Mazda North America

Mazda has long produced unique and exciting sports cars. The first Mazda automobile to gain worldwide notoriety was the rotary-powered Mazda Cosmo Sport launched in 1967. The Mazda RX-7, which followed in 1978, won the hearts of sports car enthusiasts and two years ago, in 2003, Mazda introduced the Mazda RX-8 and rewrote the sports car rule book. Its combination of striking design, spectacular rotary performance and comfortable accommodation for four adults wrapped in a four-door package is truly innovative.

To renew the MX-5, Mazda engineers focused on evolving the lightweight sports car concept as the all-new car must follow in the tracks of a modern motoring icon. In May 2000, the Guinness Book of World Records recognized the Mazda MX-5 as the best-selling two-seat convertible sports car in history, with 531,890 units produced to that date. Since that affirmation, demand has held strong. More than 700,000 Mazda MX-5s have been sold around the globe.

Not surprisingly, when creating the all-new Mazda MX-5, program manager Takao Kijima not only looked ahead to understand how the motoring world's needs had changed since the original Mazda MX-5 was launched, he also looked back to pinpoint and focus on what made this Mazda so special in the eyes and hands of car enthusiasts the world over. What he found was an intensity of spirit possessed by very few sports cars.

Rider and Horse as One—"Jinba Ittai"

In Japanese, the exceptional soul of the Mazda MX-5 is described by the expression Jinba Ittai. The direct translation of the idiom is "rider and horse as one."

"Yabusame," a longstanding artistic ritual ceremony in Japan, truly embodies the essence of Jinba Ittai (pronounced gin-buy ee-tie). An archer mounted on horseback gallops past a target and shoots an arrow. To achieve a bull's eye, the archer and horse must move as one. There must be a natural two-way communication and a high degree of synergy in their alliance.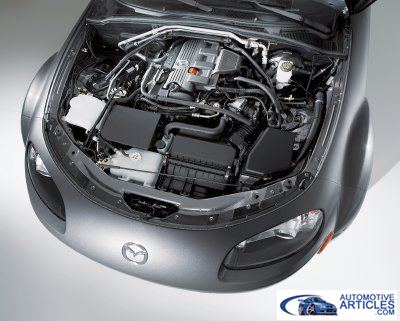 Courtesy: Mazda North America

This oneness of motion between rider and horse was selected as the most apt analogy depicting the relationship between the driver and a Mazda MX-5. Updated for the 21st century, Jinba Ittai is akin to the bond between a single-seat formula-car pilot and his racer. It is also exemplified by a high-performance sport motorcycle rider at speed. Jinba Ittai is the essence of Zoom-Zoom.

The rider-and-horse idiom and the effort to create a car universally seen as "lots of fun" served as the focal point around which the original and the all-new Mazda MX-5 were designed and engineered. While most sports cars aim for specific performance targets—such as the time required to accelerate to 100 km/h or cornering G provided by the chassis—Mazda engineers established additional goals to reinvigorate the lightweight sports car. In essence, this became a celebration of the simple delights of driving an open roadster. The "fun" was designed for anyone and any location during sport driving and daily life.

Mazda's emphasis is on the feel of a responsive machine that compliments any driver. The Mazda MX-5 stresses ideal dynamic balance achieved with minimal weight and propelled by a small but spirited engine. Factors of secondary importance in other cars—such as the way the open cockpit is bathed in sunshine and seasonal aroma of fresh air—top the Mazda MX-5's list of major attributes.

Heritage and Evolution of Jinba-Ittai

For Takao Kijima and his engineering team, the first step was acknowledging that Jinba Ittai is what made the original Mazda MX-5 so attractive for sports car enthusiasts and one of Mazda's greatest success stories. The second step was using modern engineering methods developed by Mazda to evolve the iconic Mazda MX-5 into an all-new, third-generation edition for introduction this year. To convert the subtle imagery of Jinba Ittai into nuts-and-bolts reality with a body shell, a drivetrain, and chassis components, Takao Kijima wielded a tool called Kansei Engineering.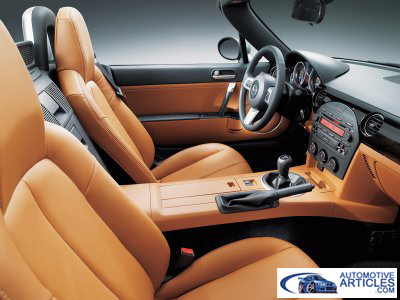 Courtesy: Mazda North America

Like Jinba Ittai, Kansei is difficult to translate into Western terms. Thoughtful awareness and heightened sensitivity are the expressions that come closest to defining Kansei. It's the realization that the fitness of every constituent part underlies the goodness of the whole, that the aforementioned synergy between driver and car can be honed so that it can be felt by anyone who experiences the vehicle in motion. Another Kansei canon is that every aspect of design, mechanical function, and dynamic response ultimately contribute to driving satisfaction.

So, with Jinba Ittai as the point of origin and Kansei Engineering as the navigation tool, Takao Kijima and his dedicated designers and engineers created an all-new Mazda MX-5 that's markedly better than, but not conceptually different from, the original.

At first, the team thoroughly discussed what should be retained from the first- and second-generation Mazda MX-5 models, and what to evolve for the all-new Mazda MX-5. The six key categories, seen below in what has become known at Mazda as the "fishbone chart", guided the effort towards the desired "oneness". They are styling (inside and outside), touching (every aspect concerned with the tactile sense), listening (dominated by the engine's voice but also encompassing wind effects), cornering (handling dynamics), driving (everything from ride quality to acceleration response), and braking. The starting point of the new Mazda MX-5 was this 'Fishbone chart'.

Five basic requirements were defined by Mazda engineers to realize the Jinba Ittai concept.

1. That the car would be as compact and as light as possible while meeting global safety requirements.

2. That the cockpit would comfortably accommodate two full-stature occupants with no wasted space.

3. That the basic layout would continue with the original's front-midship rear-drive configuration with the engine positioned ahead of the driver but behind the front axle for 50:50 weight distribution.

4. That all four wheels would be attached by wishbone or multi-link suspension systems to maximize tyre performance, road grip and dynamic stability.

5. And that a power-plant frame would again provide a solid connection between the engine and rear-mounted differential to sharpen throttle response.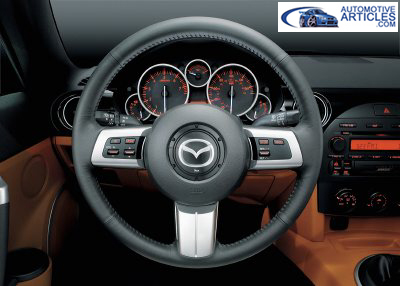 Courtesy: Mazda North America
Minimal Weight as a Virtue
There's a natural tendency for curb weight to increase when we try to meet growing market demands. Realizing that this is contrary to the Jinba Ittai goal and that extra weight would have a dramatically negative influence on driving, cornering, and braking performance, Mazda engineers made every gram count. (In the English measurement system used in the U.S. and elsewhere, one pound equals 454 grams.) Their "gram strategy" assessed weight in the smallest possible increments and carefully scrutinized weight-trimming opportunities. Other weight-saving tactics were employed as well. Advanced technology was applied where practical to achieve a light and rigid unibody design using materials that offered higher strength and lighter weight.
In its final form, the new Mazda MX-5 is more powerful, more capable, more comfortable, and more useful. It offers several new features and further improves occupant protection from collision injury. Yet, thanks to Kansei Engineering efforts, curb weight has only increased by approximately 10 kg (22 pounds).
While saving weight is a top priority for achieving Jinba Ittai, other concerns were the stiffness of the unibody structure, the height of the car's centre of gravity, 50:50 weight distribution and the vehicle's moment of inertia about the vertical (yaw) axis. (A lower yaw moment of inertia quickens the vehicle's responsiveness to the driver's steering commands.) Each of these parameters strongly influenced the new Mazda MX-5's overall fun-to-drive characteristics.
A stiff body structure is an essential ingredient in the feeling of oneness between the driver and the car. Thanks to shrewd analysis and the application of advanced materials such as ultra-high-tension steel, the new unibody delivers an increase of 22 percent for flexural stiffness and 47 percent for torsional rigidity compared to the previous-generation Mazda MX-5. And moving the engine rearward by 135 mm (5.3 inches) was a major step towards balancing front-to-rear weight distribution and reducing the yaw moment of inertia.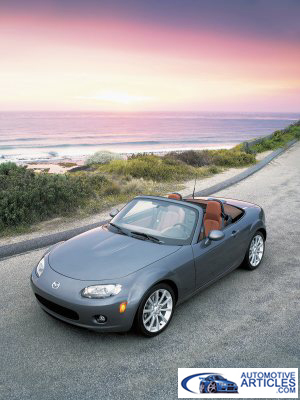 Courtesy: Mazda North America
Delightful Design
Seeing and touching are critical parts of development, so it was crucial that the new Mazda MX-5 looks and feels like a spirited sports car. This is a discipline of large and small details—the relationship of the wheels to the overall body shape at the grand end of the scale, down to the way the shift knob rests in the driver's hand at the fine end.
The original Mazda MX-5 thrived for 16 model years with but one major update. The design of the original 1990 model has been described as being a classic expression of simple, friendly and fun, for it carefully celebrated the virtues of compactness and efficiency.
Exterior Design
The new Mazda MX-5 is clearly the son of its father. Exterior design themes had to include the "fun" factor as well as "modern styling." To achieve this, the all-new Mazda MX-5 had to remain approachable and fun, but had to be updated with modern styling cues to communicate both the simple functionality of a modern lightweight sports car and the athletic solidity of a true sports car, both of which remain obvious Mazda MX-5 design DNA attributes.
The most notable departure from the previous exterior shape is the elimination of the classic "Coke bottle" shape of the contours. The nose and tail are smoothly tapered, as before, but now the surfaces wrap smoothly between the wheels without narrowing. The functional benefit of this change is a wider cockpit with additional hip, shoulder, and elbowroom. In addition, the space needed for side air bags is available.
The fender arches of the new Mazda MX-5 are notably more pronounced to accommodate the substantially wider wheel track dimensions and to provide a more athletic stance. 17-inch wheels, that are larger and wider than before, are available to define the corners of the car consistent with Mazda design DNA. The wide shoulder area of the body tapers to a narrower sill to lend a light-on-its-feet look.
In profile, the Mazda MX-5 continues the low, flowing shoulder line established by the original with side surfaces just below the shoulder creating prominent highlights between the wheels for a strong and muscular look.
To accentuate the tapering shapes at each end of the Mazda MX-5, headlights and taillights are positioned well inboard of the car's corners. So, in spite of modest increases in wheelbase (+65 mm / +2.6 inches), length (+20 mm / +0.8 inches), width (+40 mm / +1.6 inches), and height (+20 mm / +0.8 inches), a tight, compact visual image is maintained. (Note: figures based on European model.)
The high-quality folding soft top is a Z-fold design with one centrally-located latch handle. In the lowered position, it fits flush and smooth. The top can be raised or lowered without undue effort or stretching. A new detachable hard top is also available (depending on market). Thanks to a canted rear quarter pillar and a sweeping rear window, the MX-5 detachable hard top has a modern, aggressive character that will surely extend this car's appeal in new directions.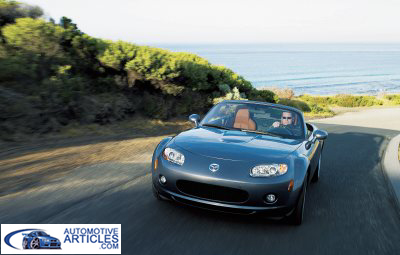 Courtesy: Mazda North America
Interior Design
The interior design themes of the new Mazda MX-5 are simple functionality and comfortable openness with high-quality craftsmanship to delight sports car enthusiasts.
A T-shaped general layout joins the horizontal strength of the instrument panel to the substantial centre backbone tunnel. Four round heating and cooling vents help establish a straight reference line across the front of the cockpit. Piano-black finish provides a modern high-quality surface for several areas of the interior. Switches, gauges and driving controls are precisely designed and carefully positioned for optimum functionality. Five individual round gauges with metal-look trim fill the instrument cluster. Highly legible markings and needles are provided and polarized glass covers maintain legibility even in direct sunlight.
Mazda designers selected eight exterior colours and three distinctive interior-trim packages. Base models are equipped with tasteful black cloth upholstery and a matte-silver metallic finish for the steering wheel, instrument rims, and door handles. High-grade models offer two attractive choices: combinations of saddle-tan and black leather on the seats, instrument panel, and door trim or black leather in a monotone treatment (depending on market).
Safety and Comfort
Employing Mazda's new-generation sports car architecture that is significantly stiffer than before provides the base for the new Mazda MX-5's safety systems. For the first time the Mazda MX-5 offers side airbag protection. A two-volume side-impact airbag is positioned inside each seat backrest. A single inflator simultaneously expands the torso portion of the airbag and the larger-volume head-protection airbag. This innovative design is light, compact, and highly effective at providing collision protection. The new side airbag feature is available in all markets.
To ensure comfort for a wider range of drivers, an adjustable steering wheel and additional movement for seat adjustment have been added to help drivers with extremely tall or short statures fit the cockpit perfectly. Storage accommodation is plentiful for a vehicle of this size. Three compartments are located on the rear wall (one readily accessible and lockable with room for 10 CDs, two positioned behind the seat backs). There is a pocket attached to the back of the left side seat, another one on the passenger's side of the tunnel, a bottle holder in the door trim, as well as a covered receptacle for two beverage containers conveniently located behind the shift lever. The large glove box can be locked and there's a small coin box provided for the driver.
Two features are designed to enhance comfort with the top down. New waist-level vents direct warm and cool air throughout the cockpit to help maintain comfortable cabin temperature on cold and hot days, making the open-air-driving season longer. A mesh-type air deflector mounted vertically behind the seats allows some air to enter the cockpit through its surface, thereby reducing buffeting and top-down turbulence.
Perfected Powertrains
Engines
A spirited engine and a wieldy transmission constitute the heart of any sports car. Two new MZR family engines—a 2.0-litre for all global markets and an additional 1.8-litre for Europe—power the all-new Mazda MX-5. These are light and compact and feature chain-driven double overhead camshafts, four valves per cylinder, variable intake valve timing, electronically controlled port fuel injection, and coil-on-plug ignition. The block, head, and oil pan are cast aluminium, while cast iron liners provide a durable bore surface.
Both engines share a 10.8:1 compression ratio and an 83.1 mm stroke that is slightly shorter than the length of the piston's travel in the previous 1.8-litre engine. The bore in the 2.0-litre engine is 87.5 mm versus 83.0 mm for the 1.8-litre version.
Final output for each engine will be confirmed as the vehicles go on sale in key markets. Output for the 1.8-litre is targeted to be 93 kW/ 126 PS at 6,500 rpm* with maximum torque of 167 Nm (17.0 kg-m) at 4,500 rpm*. The 2.0-litre European model is targeted to be 118 kW/160 PS at 6,700 rpm* with peak torque of an estimated 188 Nm (19.2kg-m) at 5,000 rpm*. Engine output will differ depending on local requirements.
Throughout the development process, work focused on what Mazda engineers called "response" and "expansion feel." A lighter flywheel, a quick response, an electric throttle and a stiff drive shaft all helped realize the responsive direct feel of the new Mazda MX-5. The new Mazda MX-5's engine's torque curve is held nearly level at high rpm by major reductions in intake and exhaust restriction. The result is an engine champing at the bit as it revs enthusiastically past the point of maximum torque to the redline, with superior response and direct feel.
Additional attention was paid to intake and exhaust passages. A 57 percent reduction in intake restriction was achieved with a large, open intake pipe and smooth layout. On the exhaust side, the pressure loss of the system was reduced by 40 percent thanks to the use of a high-volume muffler and a dual tail pipe.
In tuning the Mazda MX-5's engine sound, a smooth, harmonic note was realized that increases with throttle opening. Above 5,000 rpm, this becomes powerfully resonant, consistent with the spirited charge for the 6,700 rpm redline. A throaty 500 Hz sound through the mid-range reinforces the Mazda MX-5's feeling of nimble responsiveness.
Transmissions
Mazda's newly-developed six-speed manual transmission is available in all markets. Five-speed manual and advanced six-speed automatic, which can be manually controlled by the shift lever and by steering-wheel-mounted paddles, are also lined up (depending on market).
Sports car enthusiasts reap a special pleasure from changing gears by a quick flick of the wrist. To enhance this aspect of the Mazda MX-5 character, the shift lever's movement was engineered for ultra low effort and a very short stroke. Triple-cone synchronizers for the first four gears help reduce engagement forces. In the interests of efficiency, the 3rd and 4th gear synchros are located on the counter shaft. The shift rod is supported by low-friction bushings and lever motion is directed by a guide plate.
A Truly Entertaining Chassis
Harmonized Driving Dynamics
Achieving the tightest possible bond between a driver and a sports car is feasible only if the vehicle responds in a linear, precise, and highly predictable manner. Mazda engineers invested deep soul searching on many field trips to agree upon Mazda MX-5's character and to identify how to best achieve this lofty goal through chassis tuning.
Two key words for the feeling they pursued were precise and nimble. The goal was for a natural, lively feeling instead of the cold efficiency of some well-oiled machines. While solid stability is essential for safe driving, the ideal for the new Mazda MX-5 was to develop a chassis that is keen to alter speed or direction as swiftly as the driver changes his mind.
Every aspect of driver control had to be coordinated with steering, suspension, brakes, engine, and transmission responses. How the driver's seat was configured, the distance to the steering wheel and shifter, the feeling of the brake pedal, the ability to heel and toe, all played a significant role in achieving the Jinba Ittai driving experience. The original MX-5 was quantified and higher targets of opportunity in all aspects were identified.
Predictable, Lively Handling
Crucial was developing a light but stiff unibody that serves as the chassis foundation. A double wishbone front suspension and multi-link rear suspension system with optimized geometry help extract the best the 205/45WR-17 radial tyres have to offer. Aluminium was used for some chassis parts to minimize unsprung weight. Attaching the rear cross member directly to the unibody with no rubber isolation enhances chassis rigidity while reinforcing the feeling of oneness. Careful tuning of the rack-and-pinion power steering gear yielded low friction, high linearity, and delightfully smooth steering response. The net stiffness of the path between the driver's hands and the tyre contact patches is increased. Another significant change is a 75 mm (3.0 inches) increase in front track and a 55 mm (2.1 inches) in rear track, which contribute to improved handling.
The newly-developed rear suspension is engineered to enhance dynamic stability by optimizing the positioning of the tyres on the road. To curb unwanted steering, pitch motion of the body during acceleration and braking is tightly controlled by the dampers and by anti-dive, anti-squat geometry. A wheelbase increased by 65 mm (2.6 inches) also helps balance the stable driving.
Braking
Configuring the braking system for short pedal travel, response keyed directly to pedal force and a high degree of linearity is also a means of enhancing the Mazda MX-5's feeling of oneness. Front rotors are 20 mm (0.8 inches) larger in diameter for improved thermal capacity and calipers are 25 percent stiffer. Brake hoses are less resilient and the power booster is 25.4 mm (1 inch) larger than before. Thanks to these revisions and improved front-to-rear balance, stopping distances achieved with the four-wheel single-piston-caliper disc system are exemplary.
Sixteen years of success with the original Mazda MX-5 established high expectations for its successor. Thanks to a deep respect for Jinba Ittai principles and thoughtful applications of Kansei Engineering, the all-new Mazda MX-5 is ready to convince sports car enthusiasts that a new triple-zoom era has begun. The all-new MX-5, after making its global debut at the 2005 Geneva Auto Show, is scheduled go on sale in global markets starting in the second half of calendar year 2005. Zoom-Zoom.