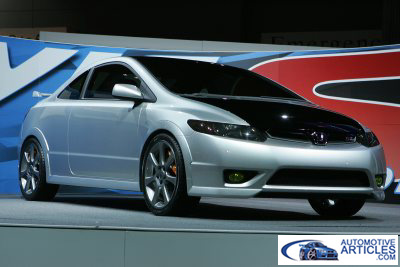 Courtesy: American Honda

Praised by many for its continued tradition of quality and dependability, but picked apart by some for its lack of excitement, the current Honda Civic has not exactly been the unrivaled sales success its predecessors have. Though still one of the top-selling compact sedans in America, Honda has resulted to unHonda-like incentives to move metal. Clearly, enthusiasts had a couple of valid points when they complained about this generation's lack of design character, lack of a double-wishbone front suspension, and lack of power.

This new Civic Si Concept, displayed at the Chicago auto show, gives us hope that Honda understands it cannot rely on reputation to push merely "good" cars. This market is too competitive for that. To really make a splash (and sell products without incentives), Honda is going to need to come out with a product that blows the competition away and looks good doing it. That H badge on the hood will justify any price premium Honda might have to charge.

The best news here is that Honda appears to be on the right track. Ignore the street-racer inspired wing and hood for a second and you'll see a clean design that betrays its sub-$20,000 price. The 200hp, 8000rpm-redline, iVTEC 4 cylinder and 6-speed manual transmission should give this car some much-needed flavor, assuming it doesn't weigh too much.

Expect the sedan, coupe, Si coupe, Civic Hybrid, and natural-gas powered GX models to return with the production versions go on sale this fall. Considering such strong competition as the Scion tC, Chevy Cobalt, new VW Jetta, and the Azeal-based Sentra replacement from Nissan; Honda better have done its homework.
Honda Civic Si Concept Makes World Debut at Chicago Auto Show
Source: American Honda Motor Co.
CHICAGO, Feb. 10, 2005 – The Civic Si Concept, making its world debut today at the Chicago Auto Show, provides a strong indication of the styling and performance direction for an all-new production Civic Si Coupe scheduled to debut later this year.
The production Civic Si Coupe will serve as the performance leader for a completely redesigned 2006 model Civic lineup that will feature more emotional styling, added performance and the latest generation of "intelligent" i-VTEC engine technology. The 2006 Civic lineup, launching this fall, will include a 4-door Sedan, a 2-door Coupe and Si Coupe, an even more fuel efficient Civic Hybrid and a natural-gas powered Civic GX.
The Civic Si Concept celebrates the 20th anniversary of the Civic Si legacy in the U.S. and builds on its performance heritage with a 200-horsepower, 16-valve, DOHC i-VTEC engine with an 8,000 rpm red line, mated to a close ratio 6-speed manual transmission. Helping to put all that power to the ground is a helical-type limited slip differential for improved launch traction and cornering performance.
Other performance features of the Civic Si Concept include 18-inch cast aluminum wheels, 225/40R18 high performance tires and 4-wheel disc brakes with large cross-drilled brake rotors and 4-piston Brembo calipers.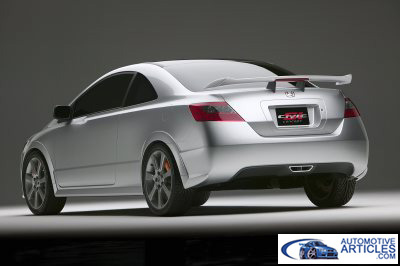 Courtesy: American Honda

"The 2006 Civic Si Coupe will be the most powerful, fastest and fun-to-drive Si we've ever put on the street, and the Civic Si Concept sets the direction in terms of its styling, package and performance," said John Mendel, senior vice president of American Honda. "It's part of a new family of Civic vehicles that build on the already class-leading values of the Civic in terms of safety, styling, performance and fuel efficiency."

Designed as an "Advanced Personal Compact," the Civic Si Concept incorporates a sweeping roofline and ultra-fast windshield rake that highlights the vehicle's advanced one-motion profile, low and wide stance, and superior aerodynamic performance. The long trunk deck, with its frontward sloping bumper, accents the forward motion conveyed by the overall vehicle shape. Wheel openings have been optimized to minimize the gap between the tire and the body. Special aerodynamic features include a full front and side aero kit, rear deck wing and a lower rear bumper diffuser with an integrated center exhaust system.

The 2006 Civic Si Coupe will be the sixth generation Si, which first appeared as a three-door hatchback in 1986 with subsequent Civic Si models appearing in 1989, 1992, 1999 and 2002.

The production Si will make its world debut at the 2005 Specialty Equipment Market Association (SEMA) show in November. The Civic Si Concept was designed at Honda R&D America's Los Angeles design center.