From AutomotiveArticles.com


2004 Paris Motor Show
Paris2004: Nissan Tone Concept
By Mike Cervantes
Oct 2, 2004, 22:50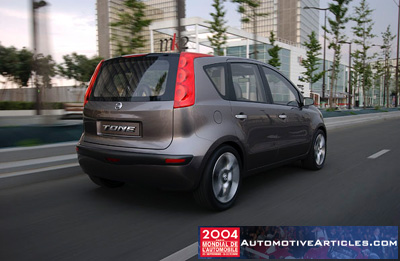 Nissan Tone Concept. Courtesy: Nissan Europe

"An enthusiastic driver does not become disinterested in driving the moment children have arrived, but finding a car that appeals on both emotional and practical levels is almost impossible. Tone is Nissan's answer." These are the words from Nissan Motor Company's chief product designer, Taiji Toyota. This is the philosophy that inspired Nissan to create the new Tone concept vehicle, a vehicle that hints very strongly at a new model headed for the European market – and just maybe, the United States as well.

Compact MPVs (think very small minivans) have been extremely popular on the European market ever since Nissan's corporate partner, Renault, invented the segment with its Scenic. Since then, just about every manufacturer has introduced its own version – some even cram three rows of seating into a vehicle about the length of your average Corolla. In fact, the majority of these compact MPVs are based on traditional C-segment models like the Ford Focus, VW Golf, and Honda Civic. With the market flooded, European competitors are looking towards the next frontier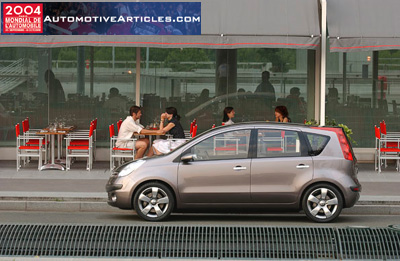 Nissan Tone Concept. Courtesy: Nissan Europe

B-segment vehicles are ones even smaller than your typical Corolla. It's often called the "subcompact" class in America, and it's all but dead in this country. However, B-segment vehicles like the Nissan Micra, Renault Clio, and Toyota Yaris (the hatchback version of our Echo) have not fallen out of favor in Europe. Rather, carmakers have been on an innovation drive to pack as much interior space into these mighty mice as possible. It makes sense that someone would take the wheelbase of one of these cars and extend it to the very corners of the vehicle while raising the roofline as high as aesthetics would permit and then label it as a "B-segment MPV." Renault is doing it with their new Modus, a vehicle that will likely share its underpinnings with whatever production vehicle comes of the Tone concept.

Nissan hasn't exactly been strong in the MPV segment. Its Almera Tino model was seen as a Renault Scenic look-alike that didn't quite match up anywhere else. Perhaps when Renault came on board at Nissan, they didn't want their Japanese partner competing directly on their turf. Whatever the reason, Nissan has been on the sidelines while the rest of the industry passed it by. Nissan knows it cannot just create another knockoff and expect acceptance. Enter the Tone.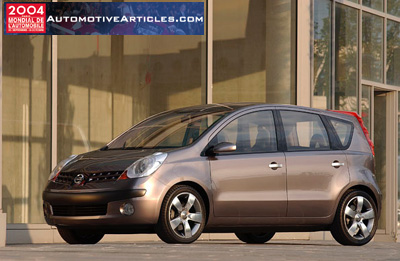 Nissan Tone Concept. Courtesy: Nissan Europe

Based on the cutely styled Micra B-segment hatch, the Tone is an attempt at mixing family-oriented versatility with the handling dynamics Nissan is known for and the avant-garde styling it is quickly becoming recognized for. The cheeky Micra is unlike anything Nissan has ever done before in terms of exterior appearance, and the gamble has paid off in terms of increased sales and public recognition. The equally adventurous Murano SUV has also seen wide acceptance in the United States based on its unique looks. Emboldened by consumer reaction, Nissan has essentially fused the two seemingly polar opposites (and sprinkled in a bit of Renault spirit) to create the design of the Tone concept.

The front end of the Tone seems to somehow mix the smiley nature of the Micra with the aggressively futuristic design of the Murano to create a design that is uniquely Nissan. The low slung, highly carved side profile somewhat echoes Chris Bangle and BMW's "flame surface" detailing. The sharply defined "boomerang" tail lamps frame the rear end and contrast with the upwardly pointed rear quarter windows. The end result is a surprisingly clean yet aggressive design from Nissan that manages to hide the top-heavy nature traditionally associated with MPVs.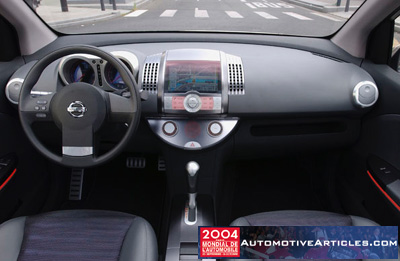 Nissan Tone Concept. Courtesy: Nissan Europe

The interior is able to successfully translate exterior design themes into a sporting, if slightly stark, living environment. The lines are clean, somewhat futuristic, and impart a sense of quality beyond what is traditionally expected from a vehicle of this segment and from the Nissan brand. It is hard to say, however, just how much of that will make it through the Tone's transition from concept to reality. What should remain is the sense of roominess that is a direct result of the vehicle's MPV architecture.

With the success of Toyota's Scion line of subcompacts, and continued interest in small cars by Germany's luxury brands, Nissan North America is aggressively evaluating all of the small vehicles currently offered by its parent company across the globe to see if anything could potentially stick here in America. Just about anything with a Nissan badge is on the table at the moment, and the production version Tone could very possibly be under consideration as well. Could it sell in the United States? Maybe, there certainly is an underserved section of the market that wants a cleanly designed, versatile, cheap, small car to get them and their gear from point A to point B. Maybe Nissan can find a way to make their journey just slightly more enjoyable.



© Copyright 2006 by AutomotiveArticles.com