From AutomotiveArticles.com


Features and Editorials
An Exemplary Honda Enthusiast
By Amy Newman
Aug 11, 2014, 22:30



Most people who work in the automotive industry will say they enjoy their job. "Hondapro Jason" is enthusiastic to say the least. It started when his family purchased their first new Honda, a 1987 Honda Accord LX-i. Naturally he had a 1994 Honda Accord EX-L as his first car. This was merely the beginning. In February 1996, Jason began working as a car salesman for Bob Rohrmans Schaumburg Honda. Many roles have been held over the past 16 years with the dealership including service writer, service manager, and lease manager. "I'm the person at the dealership that would spend his lunch hour at the boom store researching what's new in the automotive world, buying magazines from Europe and Asia to see what's different. I was also known to spend hours in new cars just figuring out how things worked." The salesman and service guys would joke and started calling him "HondaPro"

The love and enthusiasm doesn't end when the clock is punched at the end of the day. HondaPro can be followed on various social medias. "In 2012 we got our 1st new 9th gen Honda Accord at the dealership. Honda pumped us up and said 'this 2013 Accord is the best Accord ever built' I was so excited I brought my camera phone out to take a few pics and a short video. I uploaded the video to YouTube under the title 'Accord Tips and Tricks'. It was viewed over 5k times in its 1st week and I was hooked. I started writing scripts and doing tips & tricks for all the new Honda models."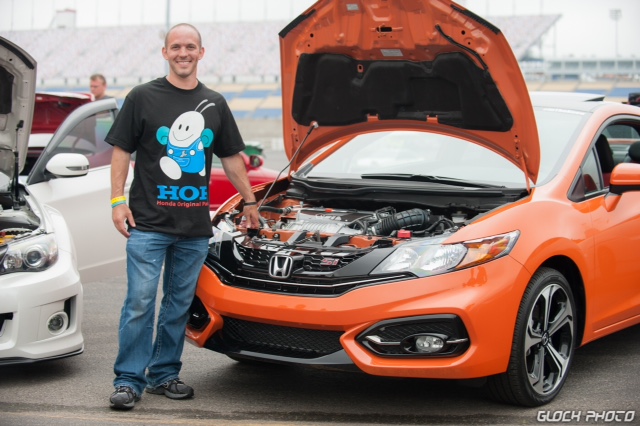 The weekly Honda news show started because of an article he read from an automotive journalist who previously bashed the 2012 Civic to a year later loves the car. "I enjoyed reading his change of heart so much I decided to tell the world about it." That show was 3 minutes long. It was recorded and edited on his iPhone while sitting in the parking lot in a new 2013 Civic. "Two years later we now have a studio, green screen, lights, and a 'real' video camera. We have recorded 84 HondaPro Shows so far with a couple of episodes reaching over 100k views."

Hondapro Jason purchased a 2014 Honda Civic Si in Orange Fire Pearl. This was done to help promote both the brand and himself. Nicknamed Project Orange, the car itself has become an icon with a large following. "This has also allowed me a platform that I can help aftermarket companies show off their products. Next year in 2015 I will start visiting other countries" Netherlands being the first.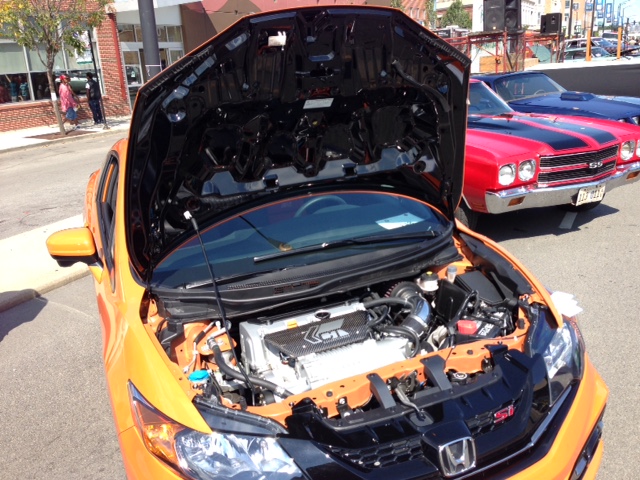 "I receive emails, questions and comments from people all over the world and its so much fun to talk to them and help solve whatever Honda related issues they might have. I try to make myself as accessible as possible using social media." Currently he's using 3 FaceBooks, Google Plus, Instagram, Twitter, LinkedIn, Pinterest, Youtube, Tumblr, Flicker, Snap Chat, Word Press, Yelp and Foursquare. He states "I use these media outlets to send birthday wishes, run contests to hand out cool Honda swag, and to be part of the Honda Community."

Being so involved is a 24/7 commitment and is 95% funded by himself. So why spend so much time, effort, and money? "Because I truly love it!! The cars, the people, and the brand Honda. One of my goals is to continue being a 'spokesperson/enthusiast' for Honda and help people better understand the brand, what it stands for. I believe that educating people and keeping them 'in the know' will help sell Hondas and that means more happy people.

Whether youre a hardcore Honda enthusiast, a consumer interested in what Honda's vehicles have to offer, or just an automotive connoisseur, you may want to consider following HondaPro Jason on his various social media outlets. The enthusiasm in general can be rather infectious and videos are found to be entertaining.

Amy Newman
AutomotiveForums.com Editor

© Copyright 2006 by AutomotiveArticles.com