From AutomotiveArticles.com


Motorsports Coverage
Super Taikyu - Tokachi 24 Hour Race
By Igor Sushko
Nov 13, 2007, 00:13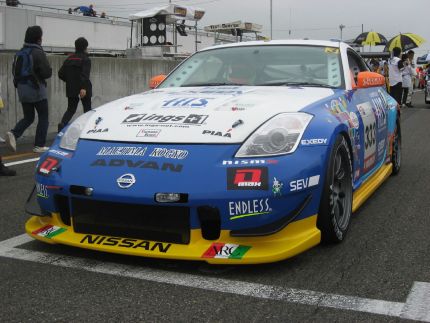 A week ago, the 3rd race of the season was held for Super Taikyu - the only 24 hour race on the schedule - at the northern island of Hokkaido in the city of Tokachi. (十勝)

We flew by plane on Friday morning but the rig with the race car arrived slightly late cutting some of the track time. I only managed to get a few laps in during the night session on Friday - the track is not very complicated, but not having been to it before, it was slightly difficult to know the way to go in the dark. I also had never raced in the dark before, so I had been looking forward to especially this race this year. It was going to be my first ever 24 hour race!

For this race only, we had four drivers total to last through 24 hours.
On Saturday, due to a small off that damaged the oil-cooler by one of my co-drivers, I again only got an opportunity to driver for another 6 laps or so in the dark. You'll be amazed at how little you can see going 130-150 mph with no lights around. The headlights are nearly not enough.



Finally came the race day on Sunday. In the morning practice session, I for the first time got a chance to drive in the light and get a jist of the track, but even then, I got in about 3 laps. Not much practice time with four drivers!

The race started at 3 PM on Sunday and ended at 3 PM on Monday.

Our starting position was 7th in class as per our current ranking - the 24 hour race does not have qualifying.

Our fuel was enough for about 1:40, which meant many pitstops.

Yamazaki-san started the race and kept a good pace for the first stint to come in and change with Sugino-san. However, the rain began to trickle down but not enough to be able to use wet tires, and our pace was slightly slower in this condition.




We then had a pit before schedule around 6:00 pm - still on dry tires but we filled the tank up and I got into the car. I ended up driving for 2 stints - nearly 3:30 hours into the darkness - the rain continued to come down but it still was not enough to change to wets during my mid-pitstop. I was consistently quick and was making up time but then I had a spin, luckily I only lost about 20 seconds and had to re-pass all the same cars all over again. I was certainly excited for my first 24 hour race and my emotions got the better of me.

Then Maejima-san got in for a stint, but we made a strategic mistake of not going with the wets this time as the surface continued to worsen. The conditions were rough though and Maejima-san ordered me back in the car after his stint as I was best positioned to drive in both the wet and the dark from my previous double stint in those conditions.

I drove for another 2 stints back to back, no spins this time, and even posting top times in the class. Racing for this long in complete darkness, especially while it's raining was really surreal. Having a car lead in front of you was always easier as the visibility improved, but I didn't want to be held up so I continued to pass our competition. There were a few times when I'd pass a car and could not adjust to the immediate lack of sight fast enough - you don't realize you're slightly off the track surface at the exit until you're actually off.

By the time I was done with my second double-stint, it was sometime around 3 a.m. I followed the race for another hour and a half or so and then I slept a little bit in our team van. Maejima-san woke me up around 11:00 a.m. to tell me to get ready for my last drive starting around noon. I got in the car, fully awake by then, and got a real taste of driving the Z in the dry with sunlight! We also used this opportunity to tryout the hardest Yokohama compound, and it seemed to last for at least 3:30 hours, probably 4, but the time was roughly 4.0 seconds slower than the soft compound. I drove the middle stint with these tires, and they did not fall off at all, just severe understeer all over. I consistently ran 2:20 to 2:22 lap times, with even a few 2:19s in there, but with nearly 40 cars on the track, it's really hard to keep the loss to a minimum during the passes.

We finished 5th in class about 29 laps behind the winner. The result really showed that without some of the issues - the differential problem, a loose wheel lug, a couple of spins, and a pit stop that had to be made when I got hit by the JGTC Toyota Supra hybrid in the dark... oh wait - I think forgot to talk about this.

During the night, with hard rain coming down, and lots of cars front and rear, there was a Class-4 Integra that turned its left-turn-signal to let me pass and steered to the very right at the entrance of a right-hand corner after the 20R Hairpin. I proceeded to do so very close to it on the inside and when I had already made the pass but still in the entry of the corner before the apex, the JGTC Hybrid Toyota Supra smashed into my right side, but not from the rear or diagonally, but rather directly from the side, our front wheels colliding hard together but no damage otherwise. As soon as that happened the steering wheel got bent about 70 degrees but the car seemed normal, but due to the impact, I came in for a checkup in the pits, which of course cost us more time.

The 24 hour race was an awesome experience - I feel so much more comfortable in the car now, and my speed in the rain continues to show. I also got a lot better at managing the traffic - it's an art in itself.

Next up is Fuji Speedway - a track I got to know quite well through the FCJ program - both tests and races, so it will be a good time for our team to shine. We will be back to the 2-driver lineup with Maejima-san for this one, and if we manage a good qualifying spot, I see standing in the middle of the podium completely within reach.



© Copyright 2006 by AutomotiveArticles.com