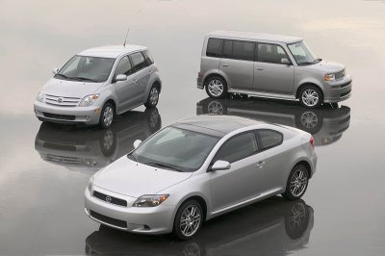 Courtesy: Toyota Motor Sales, USA, Inc.

The compact market in the Unites States is heating up. Vehicles like the Mini, the Mazda3, and even the VW Jetta have proven that you don't need to sacrifice quality and entertainment if you buy an (relatively) affordable and small car. They're also proving to carmakers that if done right, quality compacts can bring in affluent young buyers that have yet to develop their loyalties and can be easily "brought into the fold," so to speak. The sooner they drink the Kool-Aid, the better.

It is with this goal that Toyota created the Scion division. Over the last half-decade or so, Toyota has watched as their brand image became more connected with an older generation and often bypassed by younger buyers on their way to Honda and VW dealerships. Afraid of seeing their buyers age and die off, Toyota created the Scion brand under the idea that it was too late to sway the youths into accepting the Toyota logo on their new cars. Ideally, these buyers would eventually "grow into" a Toyota-brand model (and then a Lexus) after getting to trust the Toyota Motor Company's products under the Scion brand. Of course, Scion would have to bring the right products to attract young buyers or all is for naught. Just ask Honda, as their youth-aimed Element is bringing in loads of 40-somethings.

The first two products, introduced during Scion's rollout on the West Coast, have proven pretty successful at getting young buyers into the showrooms. Yet, the xA and xB are both essentially small wagons and wagons still have limited appeal in America. As Scion goes on-sale nationwide, another product is being launched to broaden their portfolio. That vehicle is the sleek tC coupe/hatch. The look is much less polarizing than the boxy xB and Euro-compact xA, both of which were designed for the Japanese market. The tC, however, was designed to be a Scion specifically for American tastes. It's pretty clear this car's direct target is the Acura RSX, a vehicle still fairly popular with younger buyers.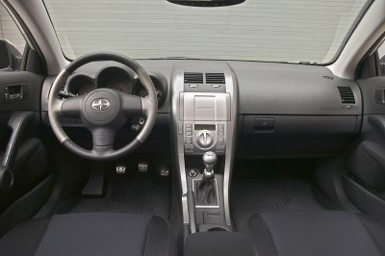 Courtesy: Toyota Motor Sales, USA, Inc.

Inside and out, the tC looks more expensive than its price tag suggests. The smooth body has shades of the Infiniti G35 coupe in it while the front is a slight mix of Skyline GT-R and BMW 7-series. The interior is simply styled with three gauges arranged in a pod style while the instrument panel stands out with its metallic-silver highlights. Overall, it's pretty clear that this Scion is designed for people who at least want to feel like they paid for a $30,000 luxury car even though they actually spent a little over half that. Not a bad deal at all.

Mechanically, the tC is definitely a Toyota parts-bin vehicle. The platform is from the Euro-market Toyota Avensis (competes with the VW Passat, Ford Mondeo, Nissan Primera, etc), with independent McPherson struts up front and independent double wishbones out back. Seventeen-inch wheels are standard, though 18s and 19s are available from TRD/Racing Hart. The 2.4L 2AZ-FE aluminum-alloy 4-cylinder engine is from the US-market Camry, with 160hp@5700 rpm and 163ft-lbs@4000 rpm. It's mated to a standard 5-speed manual. Like the RSX, the tC is front wheel drive. Handling targets were said to have been the VW Jetta with sport package.

Besides the larger wheels, TRD will offer enthusiasts a whole set of factory-backed parts to tune the tC. They will offer a lowering kit, struts/shocks kid, performance clutch, short-throw shifter, sport muffler, and a rear anti-sway bar, among other things. But the most drool-worthy piece is a supercharger kit that raises horsepower to around 200.

Other than the TRD toys and stuff like LED lights for the footwells, the tC comes with just about everything standard. That includes the aforementioned seventeen-inch wheels, a panoramic moonroof, XM-ready 160 watt Pioneer 6-disc audio system, driver's knee airbags, 4-wheel discs with ABS and electronic brakeforce distribution, cruise control, keyless entry, air conditioning, and power windows and door locks. A 4-speed auto is a $800 option, and side airbags cost $650.

Certainly, this tC and the other new compacts like it prove that cheap doesn't have to mean, well... cheap. You can have compact and have quality, too. It will be interesting to see where this segment goes in the next few years. Scion's success (or failure) will also be one of the stories to watch. As the vice president of Scion, Jim Farley stated, "Scion is a laboratory, a work in progress." No company has created a car brand dedicated solely to taking the money of young buyers. If Scion succeeds, expect to see some in the auto industry become even more youth-oriented. If it fails, well, it'll be a rare black mark in the history of Toyota. Either way, we'll have to wait and see.