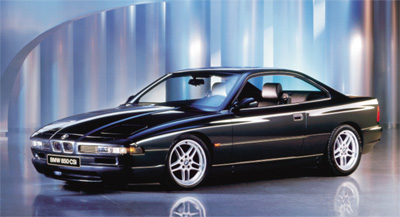 BMW 850CSi. Courtesy: BMW AG

I did not realise that my brother was a lucky man until he said that he wanted to borrow my Mercedes 'E' Class Turbo Diesel estate. In return he would lend me his BMW 850.

My brother and I don't meet that often now that he has a wife and two little boys and I live in Wales. He was going on holiday to France and thought that neither the BMW nor his wife's VW Polo would be suitable - quite right too. The Polo would have been too small and the BMW would have meant constant carsickness for his offspring!

Meanwhile I had planned a trip to Sweden so resigned myself to travelling in his Munich boulevardier with its attendant high fuel consumption. My brother took me out to his garage so I could have a look at the 850. When he opened the door, wonder of wonders, it was an 850 CSi Motorsport in highly polished Brilliant Red with the optional 18" wheels. These were black with polished rims and, very sensibly, steel valves. Things were beginning to look up by the minute for I next noticed that it was a manual 6 speeder.

Brother and family left the following morning in my Mercedes with the promise that they would bring me back a couple of cases of good French wine. That's really why he wanted to borrow my car! I spent the day shopping in London and generally checking the 850CSi over, particularly as I'm the only automaniac in the family. The Michelin Pilot Sport tyres (245/45/ZR18s at the front and 285/35/ZR18s at the rear) were in good order though the pressures were a bit low and I didn't fancy a blow out at 150+mph on the autobahn in Germany.

The ferry was from Harwich in England to the Hook of Holland. Getting to Harwich is pretty grim as the road from London isn't too good and you can't really open the big Beemer up. However my first impressions were good – very good. This car was a vast improvement on the original 850 – in fact it had been transformed. The miles slid by as I settled into the wonderfully comfortable black leather seat and listened to a combination of Beethoven, Elton John, Mozart and The Moody Blues. The ride was firm but not too firm, the handling was good but I would be able to get a better idea about that once I was in Sweden. I would fill up the biggish 23.8 gallon tank after disembarking (gas is much cheaper in Holland than in England) and then set off for the German border, about two hours run from the ferry. Once I got on the autobahn, the fun would start.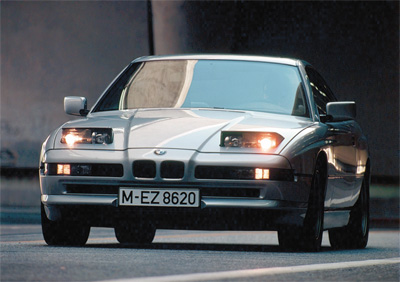 BMW 8 Series. Courtesy: BMW AG

My brother kept the car in very good order and on my recommendation had always run it on Amsoil. It was also fitted with a high performance Jetex air filter and NGK's ZFR5F1X-11 irridium spark plugs. Apparently the Motorsport engine can eat plugs for breakfast but these work really well, helping to provide optimum performance from the big V12. Really fat sparks were further encouraged by a set of Magnecor high performance leads. My brother had told me that the specialist who looked after the car had had it on the rolling road and reckoned it was producing a solid 400+bhp at the flywheel. He'd also had a Super Sprint stainless steel exhaust fitted that developed the most wonderful howl around maximum torque at 4,000rpm!

The Momo Olympic 2000 steering wheel was ergonomically just right with fat grip areas at 10 to 2. Shortly the time would arrive when I would be gripping it really hard as I let loose almost two tons of Munich Mile Muncher (Triple M) on the autobahn. The thought of trying to cruise at 150 mph started the adrenalin flowing and I set the climate control a couple of degrees lower. I find that a cooler cockpit sharpens the mind and you really need your wits about you when you're travelling at 220 feet per second. I entered Germany just as the opening bars of Beethoven's 5th blared out of the 8 speakers. The car had a good sound system too, though being a bit deaf in one ear I'm no great judge of ICE. But the Bose system was really superb. I planned to cover the 185 miles from the German border to Hamburg in less than one and a half hours.

Traffic was fairly light and it was not long before I had the car up to 150mph in 6th gear. Things happen fast at that speed and you need to keep your eyes open. A bright red car really helps as it stands out in the rear view mirrors of lesser cars that have strayed into the fast lane! In fact I did not need to flash the lights too often to clear the chaff and the miles were soon slipping by. I did have one moment when a Golf 1.8T decided to pull out in front of me though he was doing around 100 I guess. But the anchors are really massive and worked like the proverbial hand of God, slowing me from 150 down to 100mph in very short order. I made Hamburg in just under an hour and twenty-five minutes, an average of 130mph.

At around 340 miles from my last fill up in Holland the tank light flashed on and I stopped for gas and a bottle of mineral water just north of Hamburg, on the way to the Denmark Ferry at Puttgarden. I would be able to grab a quick open Danish sandwich on the ferry. The run from the first fill up point in Holland had been at an average of around 14.75mpg. Not too bad considering the speed that I had been doing. And amazingly I still felt fresh. The Triple M was really at home doing just what it had been designed to do - cover long distances effortlessly. I hit the ferry at late lunch time (2.00pm) and soon boarded. An hour or so later the ferry arrived in Rødbyhavn and in no time I was making my way across Denmark. The drive here would be much quieter as the legal limit on Danish motorways is only 110kph (just under 70mph). The speed limit is strictly enforced and if you are caught you will be fined on the spot! Once on the motorway I cruised at 75mph which seemed very slow after 150mph on the autobahn but Elton John's Greatest Hits album helped things along. The fuel consumption improved to 17.5mpg according to the computer – this was obviously programmed for the UK and was the equivalent of 21.9mpg, the Imperial gallon being 25% more than the US gallon. I was beginning to fall in love with this 10-year-old monster!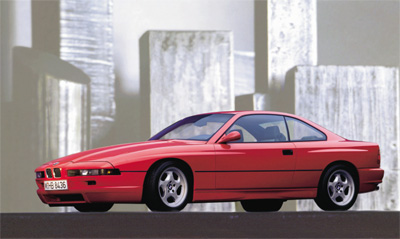 BMW 8 Series. Courtesy: BMW AG

An hour and three quarters later I arrived at Helsingør where I would make the short ferry crossing to Helsingborg in Sweden. I had decided not to take the Øresund Bridge which opened in 2000 and linked Denmark to Sweden for the first time since the Ice Age 7,000 years ago.

Quite frankly it would have meant too long a drive without a break and I have been on it several times before. It is quite a magnificent structure and the longest bridge in the world at 10 miles from end to end. I calculated that I would be in Gothenburg, my first overnight halt, by about 7.30pm. I had been booked into the Park Avenue Hotel by Volvo, as I would be visiting the factory the following morning. It had been about 24 years since my previous visit to the very same hotel. At that time I had driven there in a Schnitzer BMW 635Csi. It was easy to make comparisons with the 850Csi even after all those years. My time at the hotel had proved very amusing and I shall make it the subject of another rather shorter story.

I rang the hotel from the car, which had a voice-activated unit and was programmed for use in mainland Europe. My dear brother had thought of everything. The speed limit in Sweden is the same as in Denmark and the Swedish police are even tougher than their Danish colleagues. I arrived at the hotel on the nail of 7.30. It had been a long day. I had driven some 640 miles with a road time of eight and a half hours at an average speed fractionally in excess of 75mph.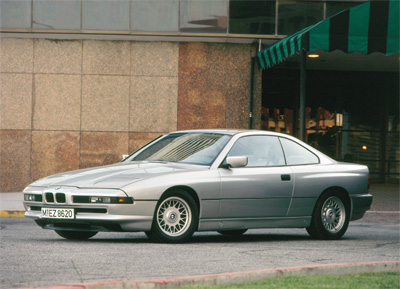 BMW 8 Series. Courtesy: BMW AG

By 8.30 I was in the hotel bar downing my second large Absolut Martini – the first had been delivered to my room – and was able to reminisce on the day's drive. I tried to think of something that I could criticize and realised that there was very little that came to mind. Then I realised what it was. The car needed power doors! They were too heavy when you went to open them from the inside. Heaven knows what they weigh!

After my trip to Volvo I went about 50 miles up the road to Saab at Trollhãttan and then on to Stockholm. I tried the car out on one or two country roads but did not want to give it a hard time. After all it wasn't a rally car and more importantly it wasn't mine either! It might have weighed almost two tons but on narrow dirt roads it didn't feel like a big car, in fact quite the opposite. You could point and squirt it at the corners and the dynamic stability control worked really well. I even surprised an elk that was out for a walk but he scampered off when I put my foot down and the engine started to wail. One other thing that should be mentioned was that the car had PIAA platinum bulbs fitted and though they are rated 55watts, the light output is quite fantastic. They were even better than some Xenons I've been behind

My final thought on a truly future classic that was born out of its time.

Not so great a boulevardier…. more a Grand Touring car in the new tradition. That is to say a car in which you can cover a thousand miles in a day – no sweat.

AM