AutomotiveForums.com Exclusive - Interview with NISMO President Mr. Sanada – Sugo Circuit - July 22nd, 2006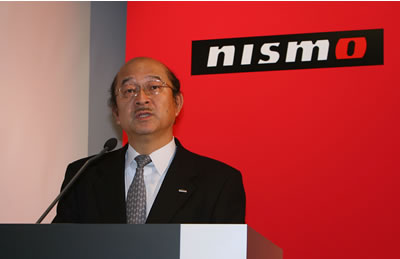 NISMO President Mr. Sanada at the 2006 NISMO Season Launch Banquet.

2006 © Nissan Motorsports International.
This interview was conducted by AutomotiveForums.com's Igor Sushko at the Sugo circuit at the NISMO paddock during a Super GT event(formerly JGTC) on July 22nd, 2006. The transcript below is the direct translation of the interview, which was conducted in Japanese.
IGOR: Thank you for taking the time to speak with me here at the race venue. You are the president of NISMO.
MR. SANADA: That is correct.
IGOR: Have you been with NISMO for a long time now?
MR. SANADA: Three years at NISMO and have been president of the company for the past two.
IGOR: Before that at Nissan?
MR. SANADA: 31 years.
IGOR: Wow! - I was just at the Nissan Technical Center – got to go through the long tunnel there – looked very secretive and once I got inside it was enormous – an entire Nissan city... What were you involved in while working at Nissan?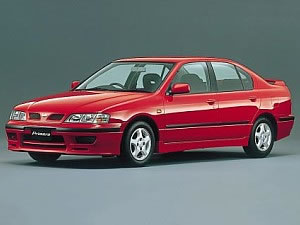 Mr. Sanada was the Chief Product Specialist of the Nissan Primera P11.

2006 © Nissan Motor Co. Ltd.
MR. SANADA: Chassis design and then was working on the Nissan Primera (Infiniti G20) as the Chief Product Planner. In my final years at Nissan, I was the Chief Vehicle Engineer for Altima, Maxima, Murano, and Quest.
IGOR: So mostly American market cars...
MR. SANADA: Yes, I've been to Smyrna plant in TN and Canton in MS a number of times.
IGOR: And Los Angeles as well?
MR. SANADA: Yes, had meetings there for product planning purposes.
IGOR: Now the headquarters have moved to Tennessee….
MR. SANADA: Yes, I have not yet been there though.
IGOR: What kind of motorsports programs does NISMO have right now around the world and what are some of your objectives?
MR. SANADA: Well, first, to take Mr. Ghosn's words, motorsports falls strictly under marketing – therfore all of our programs are for the purpose to market and sell more Nissan vehicles. Our basic goal is to impress the potential Nissan customers by our motorsports performance and to raise their interest in purchasing a Nissan vehicle. My job is to meet with Carlos Ghosn once a year and present him with a proposal for the following year's global motorsports activities that we feel will benefit Nissan's sales. So in addition to being the Nismo president, I am also in essence the head of Nissan's motorsports activities. I have ended up with multiple hats – first to strike the deal with Nissan for all motorsports activities, and then it is also my responsibility to answer to them at the end of each other regarding the performance of the programs we conducted. One of the programs is of course the Super GT (formerly JGTC), where we have attained the Team Champion title for the past 3 years in a row.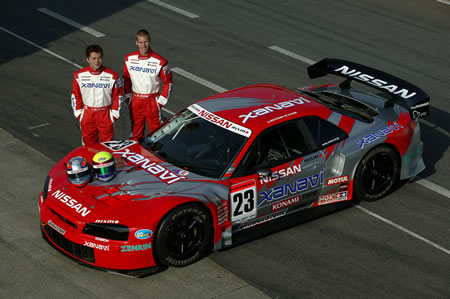 The 2003 #23 NISMO Skyline GT-R - Driver and Team Champions

2006 © Nissan Motorsports International.
IGOR: Congratulations – that is an awesome achievement.
MR. SANADA: At this point we've had 4 races in the current season, and although we've not won a race yet, if we win tomorrow's race (Sugo) our rank will skyrocket up to 1st place in the running order, so we're in a very good position.
IGOR: And I am figuring that 2003 was probably especially a memorable year – not only did you take the team title in GTG500, but the GT-R won in GT500 and the 350Z won in GT300. It was truly a Nissan dominator year.
The 2004 GT500 NISMO 350Z won its debut race.

2006 © Nissan Motorsports International.
MR. SANADA: Yes of course – that was the last year for the GT-R – and the next year we debuted the 350Z in GT500 class. And our 350Z won its debut race as well. Last year was really tough but we managed to pull it off. And in GT300 class (privateer teams but most receive some support from the factories) we have 3 350Zs running. In Super Taikyu, there are also 2-3 Zs running and we try to support their efforts as well.
IGOR: I digress, but I wanted to mention that in addition to running AutomotiveForums.com we also have a race team utilizing an ex-Super Taikyu R34 GT-R
MR. SANADA: I heard…. And we've also had a team in World Challenge in Touring class with a Sentra SE-R with Peter Cunningham as a driver a couple of years ago.
IGOR: Yes, Peter is an incredible driver, not to mention a pleasant person.
MR. SANADA: So in the US, the Sentra program was successfully concluded so we figured we'd take a break. In 2007, the new Sentra comes out. We've also thought about doing the 350Z in World Challenge GT class but it was deemed inappropriate… how are you guys doing with the GT-R?
The Nissan Sentra SE-R competed in World Challenge Touring in 2003.

2006 © Nissan Motorsports International.
IGOR: Well right now, we've been in a period of getting to know the car, especially as a first season team. At Long Beach GP, we finished 17th out of 26 cars. But initially, we were very concerned with the reliability of the engine and raced with the Super Taikyu spec while the Vipers, we realized have close to 700. So the 500hp figure of the Super Taikyu spec just could not cut it for us unfortunately. So right now we are in the process of improving our engine spec. Some other interesting cars in the series, also brand new this year, is Aston Martin DBR9 (Sanada-san gives a laugh – after all a stock chassis GT-R was not made to compete against a Pro-Drive purpose built Le Mans race car), and that is an incredible race car, and they are even getting ALMS team Pro Drive's support, and they are spending millions on the program, yet have not been able to show good results so far. One time one of their cars caught on fire during the parade lap in St. Pete.
The AutomotiveForums.com Nissan Skyline GT-R.

2006 © AutomotiveForums.com
MR. SANADA: We really want to work with Nissan North America's marketing department and if they would come to us with a plan of racing a car in World Challenge, we'd very interested. In the United States, there is now a different person in charge of marketing, so I am looking forward to speaking with them about next year's program. In Europe, we operated a factory race team for Paris Dakar for 3 years and that program also met our objectives, and at this point we have ended the program on a good note.
Nissan Frontier - 4th Place at 2005 Paris Dakar Rally.

2006 © Nissan Motorsports International.
IGOR: That was with the Nissan Frontier?
MR. SANADA: Yes. So, from the marketing perspective, we did our job, and the program came to its end with high marks. Now we are looking at doing more programs with new vehicles both state-side and in Europe.
IGOR: As a factory race program, your objective is marketing – how is the success of such activity measured exactly?
MR. SANADA: We determine the acceptable amount of exposure with Nissan as part of the initial package that gets approved. Then during the life of the project Nissan tracks all exposure of the programs in magazines, TV and other media.
IGOR: In the United States, the next generation GT-R is extremely highly anticipated and most automotive publications in the US have had the GT-R prototype on the cover at least once, with some having placed it on the cover for multiple issues. So naturally, the Americans are very curious to see if there will be a motorsports program for the next GT-R in the United States.
MR. SANADA: Our job here at NISMO is to oversee global motorsports operations for Nissan, and of course we want to do as much as we possibly can.
The 2008 Nissan Skyline GT-R Proto

2006 © Nissan Motor Co. Ltd.
IGOR: I recently heard that Brad Bradshaw, as the new person at Nissan NA in charge of marketing and sales, has an optimistic vision for motorsports.
MR. SANADA: I have not yet had an opportunity to meet him, but if that is so, then even a program in World Challenge GT would not be out of the question.
IGOR: Yes – I feel that if motorsports does not continue on a regular basis, then the brand image could suffer long term. I am a huge Nissan fan personally, but as an aside from that, I feel that a great example of motorsports' effectiveness can be seen with GM's Cadillac brand in recent years. In 2002, they ran a prototype in Le Mans, however it was apparently a failure. Then the following year, they began testing with a Cadillac CTS-V program for 2004 World Challenge GT – a car that is a large luxury sedan. And when they came out in the beginning of 2004, they showed complete dominance in the series, and Cadillac used that extensively to market themselves as a performance brand – and it has been quite successful. They managed to completely turn its brand image upside down – what used to be an old-grandma boat-like handling luxury car brand, is now considered a high performance brand by most. Even though it took them tens of millions of dollars, they are extremely happy with the effect. I think it's a prime example of the effectiveness of a factory motorsports program.
MR. SANADA: (smiling) Well… let's go to Nissan NA, since you're also racing a Nissan yourself, and talk with them together.
IGOR: (smiling) Of course – please!
MR. SANADA: Since all motorsports money comes from marketing, if marketing deems it valueless there is no way to move forward, but if what you spoke about Brad Bradshaw is true, we may very well have something brewing. If Nissan NA begins to want to exploit the use of motorsports for marketing, I can think of numerous programs we'd like to do.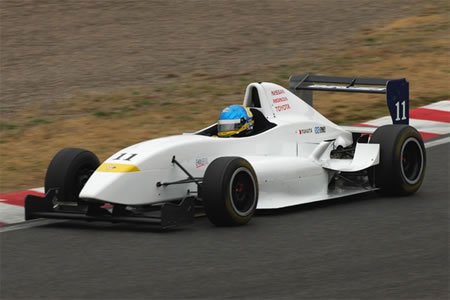 Brand new series for 2006: The Formula Challenge Japan

2006 © Formula Challenge Japan
IGOR: I heard that in Japan, this year, a new driver development series has began called the Formula Challenge, in which Nissan, Honda, and Toyota are competing with 9 drivers each.
MR. SANADA: We began talking about doing this last year. Honda had the Honda Dream series, and Toyota had a series called Formula Toyota, but Nissan didn't really have its own development series for young drivers. So all three manufacturers got together and figured they could compile their own objectives into one unified series and we all got a great response from various people involved. So far we've had only one race weekend, and the first race one of our kids took 1st place, and in the second race a Nissan driver got 2nd.
IGOR: That's excellent.
MR. SANADA: So we're trying to build our own talent channel, so that those who succeed in Formula Challenge Japan would then go on to GT300, GT500, and maybe even higher category. I believe the cars utilize a Renault 2.0 liter engine, and it's a complete spec class with 27 competitors. One of our Nissan drivers in this series is also racing in GT300 in a Z right now.
IGOR: How old is he?
MR. SANADA: He is around 24 and he is really talented. So maybe he could go on to Formula Nippon.
IGOR: In the United States, it seems like performance in vehicles is really valued. And right now, time Attacks are becoming quite popular and I am very surprised by this move in the enthusiast market.
MR. SANADA: Interesting…
IGOR: It's very cool that more people are beginning to enjoy the true performance of their own cars on real race tracks rather than just slapping on some modifications to look good driving on the street, or worse doing some irresponsible things among innocent bystanders. This kind of shift in the market further reassures my thinking that a Nissan motorsports program is quite necessary to stay on top.
MR. SANADA: Right now, Ron Stukenberg of Nissan Motorsports is also interested in some time attack activities on behalf of Nissan. So in utilizing websites such as yours, the better understanding that we have of what goes on in the market, the likelier we are to be able to convince the decision makers at the top that such motorsports activities are necessary.
The AutomotiveForums.com Nissan Skyline GT-R enjoys great popularity at the races.

2006 © AutomotiveForums.com
IGOR: Even in our example of racing the GT-R, although we have not really achieved a high result in the races, from the marketing standpoint, we have a numerous fan base, and we have been featured on multiple TV programs, and various magazines, and of course the internet – when we first issued a press release that we are going to debut a R34 Skyline GT-R in World Challenge GT back in March of 2006, dozens of print and online publications carried the press release. At our first race, our paddock was next to the Aston Martin DBR9 and most people seemed to walk right past them and crowd around our car – most people in the United States, even those who know about the GT-R, have never seen one in person.
MR. SANADA: We're thinking if there are that many people that hold an active interest in Nissan racing, then we should embrace it. In the future, maybe we could give a few teams some chassis – the more Nissans there are racing, the merrier.
MR. SANADA: In GT, aren't Bell and Stuck still racing?
IGOR: Bell was racing as late as last year, but Stuck I believe has been out for a few years now.
MR. SANADA: We want to gradually increase the number of Nissan race cars out there.
IGOR: In Touring class, it is mostly the Mazda team going against the Honda (Acura) team. Both teams field multiple cars – Mazda is 3 going on 4 and Honda has about 5 right now.
MR. SANADA: Ideally, we'd like to have Nissans racing in both Touring and GT in World Challenge. So, please support us. (smile)
IGOR: I am looking very forward to the future to see what will happen to motorsports at Nissan.
MR. SANADA: Definitely seems like it.
Igor Sushko won 3 times in the Skip Barber Formula Series in 2005.

2006 © Skip Barber
IGOR: Back to the new formula series here in Japan, how does one get to race in it?
MR. SANADA: Drivers can be 16 years of age through about 25 and we let them try out and decide on the scholarship amount (or no scholarship) based on their performance. The total cost is about $60-70,000 for a year.
IGOR: Wow. That seems very affordable.
MR. SANADA: Yes, Formula Toyota was over $100,000.
MR. SANADA: You seem interested in racing in the series.
IGOR: Me? Absolutely. I apologize for talking about myself again during an interview, but I've had a dream for a long time now to race in Japan and figured that racing a GT-R in the United States would be the first step toward achieving that.
MR. SANADA: Talk to Mr. Bradshaw and get the program going for the next GT-R – since it's going to be a global brand, it would be a waste to only race it in Japan.
IGOR: Definitely. I am very interested in the Formula Challenge series as well.
MR. SANADA: They also have that kind of series in United States right?
IGOR: Yes – I raced in the Skip Barber Formula – the car is slightly slower than what Formula Challenge appears to be but it is very similar.
MR. SANADA: About 1.6 liters?
IGOR: Yes, around there. So I got a chance to race even at Laguna Seca.
MR. SANADA: I've been there… for the Altima debut, and I had an instructor in the passenger seat with me guiding me through the course.
IGOR: What I thought was really funny about the cork screw is that it's really simple to drive through – all you got do is aim for a tree that is at the bottom, and just go for it blind and the car naturally takes on the right line every time.
MR. SANADA: Yes I remember that! (both laugh)
IGOR: Well, thank you So much for your time for the interview. It's been incredible fun to be able to talk to you like this.
MR. SANADA: We'll have to do it again sometime.
IGOR: Thank you.
The NISMO Team celebrates its 2005 Team Championship Title - 3rd year in a row.

2006 © Nissan Motorsports International.
Points of Interest