Last Updated:

Nov 13th, 2007 - 00:13:25

---
I just got back a few days ago from Suzuka. We had 2 hours of testing on Thursday followed by two 45 minute practice sessions on Friday, two Qualifying sessions and Race 9 on Saturday, and a longer race 10 (17 laps - 40 minutes or so) on Sunday.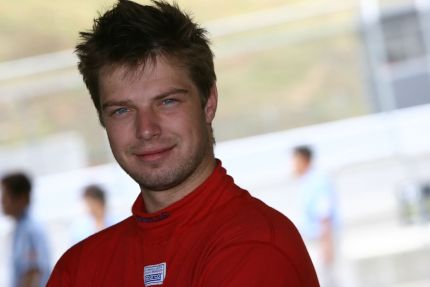 This has been the most interesting FCJ race weekend yet. The practices were all in the dry but I was following the weather it appeared there was a good chance for rain during the Saturday morning qualifying. Somehow it just felt so right. The first qualifying session, I did not anticipate being held by the field in front of me, as I am usually not that fast, but it happened. I dropped back and tried again and as luck would have the same thing happened. I still qualified 16th out of 27 for race 9. After the first qualifying session, we get a 10 minute break for adjustments and then get back on the track for another 15 minute qualifying session. This time around, I just let everyone go ahead and waited for about half a lap. Sure enough, it did come together - 13th place in qualifying. Up until this weekend, my highest qualifying position was somewhere around 23rd, so this was a huge jump. I was within 0.95 seconds of the pole position, while of course the entire grid got spaced out much more than during dry-condition qualifying.

It was great to be finally out of the gutter.

Tanaka Tetsuya-san 田中哲也 seemed even happier than me to finally see me break through.
He has been patiently waiting for me to leap by guiding me throughout this season.

The races themselves were not nearly as exciting as the qualifying. The track was dry for both races. The Saturday race was not going too bad until I went off slightly in turn 1, but managed to barely maintain traction to get out of there... You're in 5th gear there in turn 1 and the car literally jumped several times as I went over the rumble strips and into the sand. That bent one of the control arms so the car didn't turn very well for the remainder of the race.

The Sunday race had an exciting beginning. The feeling of starting in 13th place out of 27 cars after having been that 27th for so long was incredible. The launch went pretty well and I passed two cars and #6 Kei Cozzolino somehow passed a few more after starting beside me. At the end of lap 1 I was in 12th. After that, I settled into a rhythm in 14th place while fiercely defending my position from car that was all over me - afterall, I had been a bit slower than the top drivers in the dry, so it was showing, despite my wet qualifying position. I was blocking at nearly every corner and successfully. But after about 5 laps of this, I ran over the outside rumble strips at the 130R (6th gear full throttle left at 145mph) causing a slight brake knockback for the upcoming chicane (the hardest braking zone at Suzuka). I could not slowdown enough and went out just a bit into the green zone and then back right out at the end of the chicane. But I lost enough time and speed to be passed by a total of 5 cars due to this mistake by the end of the straightaway.

With this, I finished 20th.

I am finally beginning to show a competitive edge around these top-level racers and I can't wait for the next race at Fuji in August.

This Friday, our Super Taikyu team is flying to Hokkaido for the Tokachi 24 Hour race. It seems like everyone and their mother is competing in it - Orido Manabu 織戸学 and Taniguchi Nobuteru 谷口信輝 will be racing in a Porsche 911 in Class-1. Yamashita Junichiro will be in an S2000 in Class-3. There is even going to be a retired JGTC GT500 Toyota Supra with a hybrid engine. I also heard rumors of a SEAT racecar coming in from Europe.
Discuss this article on AutomotiveForums.com
© Copyright 2006 by AutomotiveArticles.com Top of Page