AutomotiveForums.com Exclusive - Interview with NISMO GT500 Driver - Mr. Matsuda – Sugo Circuit - July 22nd, 2006
This interview was conducted by AutomotiveForums.com's Igor Sushko at the Sugo circuit at the NISMO paddock during a Super GT event(formerly JGTC) on July 22nd, 2006. The transcript below is the direct translation of the interview, which was conducted in Japanese.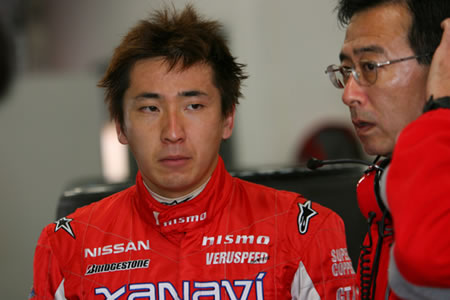 Matsuda Tsugio is the co-driver of the #23 (ni-san) Z in GT500 class.

2006 © Nissan Motor Co. Ltd.
IGOR: Thank you for your time here at the circuit.
MR. MATSUDA: No problem at all.
IGOR: How is it going right now on the track?
MR. SANADA: We have qualified in 4th position.
IGOR: Do you like driving in the rain?
MR. MATSUDA: The conditions are difficult to deal with when it's on-and-off, instead of being solid rain/wet or just dry. At this point, it's right in-between wet and dry, and track conditions are unpredictable.
IGOR: But these cars have traction control and ABS and such, correct?
MR. MATSUDA: No, actually, we don't have either - no electronic controls at all.
IGOR: Oh! I had no idea - I thought it was more like the Le Mans rules.
MR. MATSUDA: It's become illegal by the rules here.
IGOR: So that means that Super GT is incredibly pure as racing goes!
MR. MATSUDA: Definately - it all comes down to the driver. And here at Sugo, there are no tirewalls or many safeguards, so it's very dangerous in these kind of conditions.
IGOR: Yea, I just saw an NSX spin off the track.
MR. MATSUDA: So you really have to have excellent gas and brake pedal control, or you'll be in trouble very quick.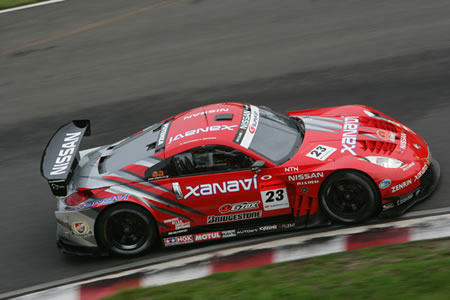 Matsuda Tsugio piloting the #23 (ni-san) Z in GT500 class at Sugo.

2006 © Nissan Motor Co. Ltd.
IGOR: I did some background research on you, and I learned that you just recently raced in the Super Taikyu series in Hokkaido. I believe your crew chief was Suzuki-san from Shift.
MR. MATSUDA: Yes....yes.
IGOR: Last year, when first tested our R34 GT-R in the United States, Suzuki-san was kind enough to come out and walk us through the car.
MR. MATSUDA: That's great - Suzuki-san is an excellent car builder and crew chief.
IGOR: His history is tremendous - no matter what car or series he is involved in, it seems that he has won more races/championships than not.
MR. MATSUDA: We really did not have much test time with the car we ran in Hokkaido, and had some tire compound setup issues, but the car definately held together and did not break for the entire duration of the 24 hour endurance race.
IGOR: What class was the Z in?
MR. MATSUDA: Super Taikyu's GT Class. So we were actually the only car in the class - it was a test for us more than anything.
IGOR: Do you feel any similarities between the endurance cars and Super GT?
MR. MATSUDA: Not really. They're quite different. The Super GT car's suspension and chassis is incredibly similar to a formula car, and there is not much resemblence to a production car, like in Super Taikyu.
IGOR: You've been racing in open wheel series, like the Formula Nippon, is that an experience that you use to benefit in the Super GT driving?
MR. MATSUDA: Yes, that's for sure.
IGOR: Even including the parts like the sequencial transmission.
MR. MATSUDA: Well, actually that's one difference - in Formula Nippon, the shifter is on the right side, while in Super GT Z it's on the left side. But once you get used to it, it's not hard at all to switch around.
Matsuda Tsugio is the co-driver of the #23 (ni-san) Z in GT500 class.

2006 © Nissan Motor Co. Ltd.
IGOR: I see, in the United States, I too have had to learn to shift on the opposite side with the GT-R.
MR. MATSUDA: But other than that, the Formula Nippon driving is very excellent training with a lot of parallels to the Super GT car.
IGOR: With regards to driving technique, do you use left-foot braking primarily?
MR. MATSUDA: Yes. I don't use the clutch usually so I can use my left foot permanently for braking.
IGOR: Are most drivers in Super GT utilizing the left-foot-braking technique? Or is there a generation of drivers who use the more classic heel-and-toe technique?
MR. MATSUDA: Well, some use a mixture of both really. Sometimes the transmission gets some wear on it if you continually shift without the clutch.
IGOR: So you'd just switch back to heel-and-toe with the clutch pedal once you feel like the gears are getting worn.
MR. MATSUDA: Right, when you get that feeling.
IGOR: And this is your first year with NISMO, correct?
MR. MATSUDA: Yes, that's right.
IGOR: Before that you were driving an NSX?
MR. MATSUDA: Yes, for about 5 years, I was racing in the Honda NSX.
IGOR: Your preference?
MR. MATSUDA: Definately this one - the car is great and the team is incredible - that's what's necessary for a winning team.
Matsuda and Motoyama, the co-drivers of the #23 (ni-san) Z in GT500 class.

2006 © Nissan Motor Co. Ltd.
IGOR: Your co-driver is Mr. Motoyama.
MR. MATSUDA: Yes, and we're aiming for the championship this year.
IGOR: He is the veteran on the team, right?
MR. MATSUDA: Yes.
IGOR: Do you guys share a lot with each other information-wise in terms of driving the car?
MR. MATSUDA: Yes, he really knows how to drive the Z fast, and so he is helping me quite a bit and sharing a lot of information with me. I've been driving a mid-engine car for a while, and now I am in a front-engine car, so I need to make some adjustments on my end to better utilize the vehicle.
IGOR: How are you guys outside of work?
MR. MATSUDA: Well, yes, sometimes we have meals together, and of course we got plenty of meetings to attend.
IGOR: All the drivers seem to have different techniques that they use to get them relaxed and "in the zone" before getting to work inside the car. What's your method?
MR. MATSUDA: I have a schedule before races for eating and working out correctly, and then once I am done with the race I am sure to take one day off to rest and then get back into my schedule for the next race.
IGOR: What about your attitude or philosophy inside the car? For example, in my case, I visualize the car being on rails and being held up by 4 springs at each corner and my job is to really make all of the weight transitions as smooth as possible. Whether it be in the rain or whatever condition, I have that kind of visual prep.
MR. MATSUDA: Overall, I have to say mine is the same. In order to let the car turn, I visualize the weight balance between front and rear and side to side before the drive and while driving as well.
IGOR: Some drivers seem to have little quirks to their driving, such as cutting the steering wheel really rough at some odd point or weird play with the gas pedal.
MR. MATSUDA: Well, you know, when the car refuses to turn you just throw it in the corner.. [both laugh]
IGOR: hmm humm..
MR. MATSUDA: But in this case with the Super GT Z, the car is built to perfection to where such quirks are unnecessary and so I am able to drive very classically with regards to my inputs.
IGOR: Have you been aiming to race in Super GT from a long time ago?
MR. MATSUDA: I had a dream to go into Formula One, but definately also the Super GT, and my big dream was to be with a factory team, serving as a factory driver. That was my biggest goal overall. The ability to actually help in developing a race car is also very interesting.
A NISMO Super GT GT500 Fairlady Z at a tire test.

2006 © Nissan Motor Co. Ltd.
IGOR: I cannot think of a bigger stage or a better position to be in as a professional driver.
MR. MATSUDA: Definately. The development surrounding the car is very fun - stuff gets changed around and tried very rapidly on the car.
IGOR: So when did you start racing?
MR. MATSUDA: In 9th grade, I started driving go-karts. In 10th grade, I really began to race them, and did that until 12th grade. And at that point I got a scholarship into a Formula 2 series. From there, I got a ride in Formula Nippon and here I am now.
IGOR: Wow, going into Formula Nippon must have been a big step up.
MR. MATSUDA: Oh yes, and if I had not gotten a scholarship I would not be here today.
IGOR: Have you had an opportunity to race abroad much?
MR. MATSUDA: With the Super GT, we've raced in Malaysia and in 2004 we went to California.
IGOR: I was actually watching the race there!
MR. MATSUDA: Yea, that was a little odd - we won but then we got bumped to 2nd place due to some rule, or I am not sure what happened with the sanctioning body there.
IGOR: But tha was just an exhibition race, so I guess that's alright.
MR. MATSUDA: Yep - that was a lot of fun.
IGOR: Super GT is getting continuously more famous in America and there are lots of rumors flying around as to whether you guys will come back again to hold a race stateside. There is a lot of interest in Japanese cars and it is growing. Surprisingly, track driving is becoming popular among the enthusiasts, with time attack events held all around the country.
MR. MATSUDA: That's very interesting. It would be great if we could come and race in the U.S. again. We really want everyone around the world to experience the racing in Super GT - I think we have an awesome product.
IGOR: As a full-time driver in Super GT, do you have much time or opportunities to race in non-Super GT events?
MR. MATSUDA: Well, since I am also doing Formula Nippon, between the two series you barely end up with any free time.
IGOR: You're doing Formula Nippon this year as well?
MR. MATSUDA: Yes. The seasons end around November, so I get a few months off in the winter time.
IGOR: So you could in theory go racing in Australia, or some other region where the weather is more permitting during the northern hemisphere winter time.
MR. MATSUDA: Yea... that would be fun.
IGOR: It's my dream to go racing in Le Mans in France and Nurburgring 24 hours and do some racing all around the world.
MR. MATSUDA: Oh I am the same way there - an opportunity to race at Le Mans and Nur would be great.
IGOR: Aren't the Super GT GT500 cars almost identical to the Le Mans GT1 cars in regulations?
MR. MATSUDA: For the most part, yes they are.
IGOR: Slightly modifying the Super GT Z and taking it to Le Mans GT1 would probably turn the entire motorsports world upside down.
MR. MATSUDA: I think the car would do really well if we ended up doing something like that.
IGOR: These cars are just so cool that they are all over the magazines in the United States.
MR. MATSUDA: Well, I just hope to be able to continue racing for NISMO. [both laugh]
IGOR: Got to be sure not to lose your job!
MR. MATSUDA: As a driver, you really don't know what will happen tomorrow - you always have to be the fastest and cannot afford too many crashes with the car.
IGOR: So you're done driving for today?
MR. MATSUDA: Yes, the qualifying was it for us.
IGOR: Best of luck to you tomorrow in the race and I will be supporting you guys as best as I can.
MR. MATSUDA: Thank you very much! Until next time!
Points of Interest