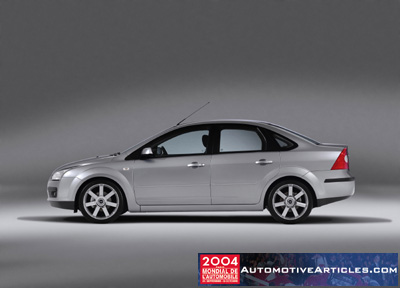 Ford Focus Sedan. Courtesy: Ford Motor Company

The first generation Ford Focus was definitely a successful car for Ford of Europe. It proved to the European motoring press that the company could produce a dynamically exciting, stylish, and quality compact that deserves a rank beyond the typical "fleet car" image often associated with Ford. In America, the Focus initially challenged perennial leaders like the Honda Civic and Toyota Corolla until a string of recalls and quality gaffes tarnished the vehicle's image in a highly competitive market.

The result is that while Americans get a facelifted version of the MKI Focus, Europeans get a sleek new MKII generation Focus. We'll discuss the intelligence of that decision in a moment – but first let's take a look at what's soon to go on sale on "the other side of the pond." From looks alone, the new Focus is unquestionably an evolution of the family design theme Ford of Europe has been pursuing for many years. This is clearly a more grown up Focus. Whereas the first Focus was fun and unique, the second generation Focus is going for a bit more of that purposeful German look, giving one the impression that it's worth more than its price tag suggests. Overall, not a bad job – especially in sedan and wagon forms – but some of that edginess of the first Focus is now lost. Some would say that's not a bad thing, however.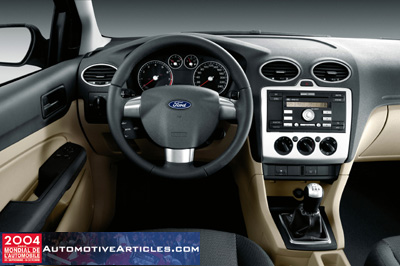 Ford Focus. Courtesy: Ford Motor Company

"Delivering a premium quality driving environment was of prime importance," said Adrian Whittle, Ford Focus Chief Program Engineer. "Inside the car this is borne out by the 'cockpit' driving position, the 'flow-through' instrument panel and console design and the use of carefully selected high quality materials.

Certainly, the interior of the new Focus follows the design evolution seen on the exterior. That is, things have gone from edgy to mature – and that's definitely not a bad thing in regards to the interior. The look seems to mix a bit of Volkswagen flavor with a touch of the "edge" design of the previous Focus. In the end, the MKII Focus is the latest in a string of compacts offering luxury feel for a not-so-luxury price. It's arguably one of the best so far, too. Besides the use of quality materials, Ford is offering some interesting features to make the Focus experience a nicer one:

· Ford's "KeyFree System" allows drivers to unlock the doors without having to fumble for the keys.

· Like a few Lexus and BMW models, the Focus will feature adaptive headlights that follow the front wheels' line to guide you into a turn with better visibility. To make this system affordable, Ford designed the system to work with halogen lights rather than xenon lamps.

· Blue Tooth wireless interface allows passengers to sync their capable cell phones to the Focus' speakers and microphone – especially helpful in keeping drivers' hands on the wheel.

· Voice Control allows for further hands-free control of audio, climate, navigation, and in-car entertainment systems.

· In-car entertainment system by Sony with MP3 capability, 6-disc CD changer, and four 20-watt "premium" speakers.

· Rear Seat Entertainment system offers back-seat drivers their own MP3-capable audio system with a high mounted LCD screen and DVD player also capable of interface with video game consoles.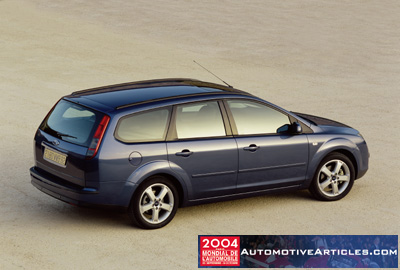 Ford Focus Estate. Courtesy: Ford Motor Company

The Focus platform itself is known as the C1, also shared with the Volvo S40/V40 and Mazda3 sedan and hatchbacks. The Swedish and Japanese firms had specific design input in areas where they excel – safety and suspension systems, respectively. This also means that the wheelbase is longer and the track is wider, likely improving vehicle stability and interior room. A full slate of Volvo-tested front and side airbags will also be available. A full slate of petrol and diesel engines will be offered, including a 1.4L 80hp, a 1.6L 100hp, and a 2.0L 145hp – all three are 4 cylinder petrol models. Diesel engines include a 1.6L 109hp and a 2.0L 136hp 4 cylinder. A new 1.6L 115hp petrol 4 cylinder will also be offered.

Perhaps the worst thing about the new Focus is the fact that us in America may never get to see it. Word is we'll be stuck with the facelifted version of the first-generation Focus for quite a few more years because Ford doesn't think Americans want a higher quality compact – or that we'd be willing to pay for it. Perhaps that's true – the 8 million year old Chevy Cavalier often sells at higher numbers than the Focus. But the fact of the matter remains that competitors are offering Americans higher quality compact cars and Americans are buying them. If Ford continues on with an aging Focus against new models like Toyota's Scion division and Chevy's new Cobalt, those inside the company supporting the decision could very well get their asses handed back to them when buyers reject their serving of "yesterday's news." Ford: bring us the new Focus!