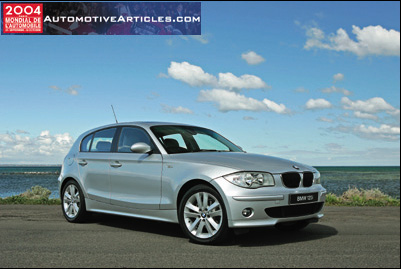 BMW 1-Series. Courtesy: BMW AG

BMW has been on a drive lately. Once content to make small, amazingly well-tuned touring sedans, the Bavarian industrial machine is now expanding to cover just about every niche a luxury brand can play in. The company now has two SUVs, three sedans ranging from compact to full size, and full slate of performance coupes and roadsters. Then there's the affordable Mini hatch and stratospheric Roll Royce Phantom. But one segment the BMW brand hasn't competed strongly in is the Golf-class of compact cars, until now.

As the name indicates, the new BMW 1-Series slots in below the 3-series and competes directly with German rival, the Volkswagen Golf. Audi's new A3 will also be in the crosshairs as it is a luxury-badged compact wagon with performance attributes. And just as with the Audi, the question must be asked of the 1-Series: does anyone want a cheap and compact luxury car? While the answer is unclear in America (as is the possibility of BMW offering the 1-Series on our shores), the European market definitely has room for these types of vehicles on their roads.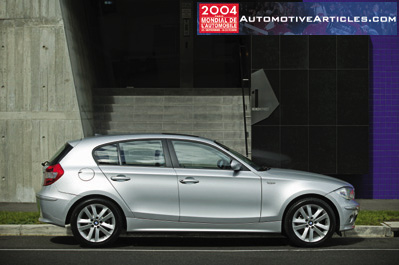 BMW 1-Series. Courtesy: BMW AG

As such, BMW is coming out with both guns blazing. The company will eventually offer a full slate of engine choices and body styles. The first variation to debut was the 1-Series 5-door hatchback, but a 3-door model is also expected, maybe a sedan as well. A 2-series variant should also be available in coupe and convertible body styles. If any of these new compact BMWs come to American dealerships, it will likely be the 2-series models and maybe the 1-series sedan. That possibility will be based largely upon demand for such models, and maybe the success of Audi's A3. So if you want a compact BMW, let them know with a couple (hundred) emails…or just buy the Audi.

For now, the Europeans will get their choice of four engines, two diesels and two petrols. The base 116i features a 1.6L gas-powered 4 cylinder with 115bhp while the 120i comes with a 2.0L petrol 4-cylinder with 150bhp and 147 ft-lbs of torque. Both feature BMW's fully variable Valvetronic valve management system and double-VANOS. The 120i has a maximum speed of 135mph, according to BMW. On the oil burner side, the 118d has a 1.8L diesel engine with 122bhp and 206 ft-lbs while the top of the line 120d features a 2.0L engine with 163bhp and a full 251 ft-lbs of torque. Clearly, the diesel engines are where BMW spent its development money. Both feature common rail injection, dual balance shafts, a turbocharger with variable turbine geometry, and an intercooler. The 120d has a top speed of 136mph.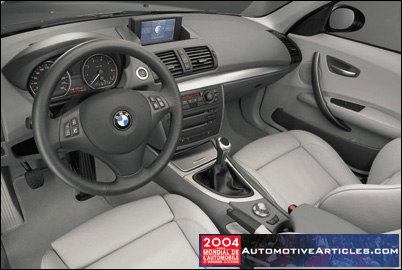 BMW 1-Series. Courtesy: BMW AG

The engines are mated to your choice of a six-speed manual (five speed on the 116i) or a six-speed auto on the 120d and 120i. The six-speed auto is clearly an interesting option for a vehicle that would cost less than $30,000.

The overall length of this front-engine, rear wheel drive 5-door is a full 24 centimeters shorter than a 3-series sedan, which should make for an even nimbler vehicle. The fully independent front and rear suspensions are inspired by designs featured in other BMWs, especially the five-link rear setup – certainly not a bad thing since most BMWs are regarded as benchmarks in their respective classes. Extensive use of aluminum materials and a low coefficient of drag should keep weight down and provide for excellent fuel economy, though many of these BMWs will be driven hard – as they should.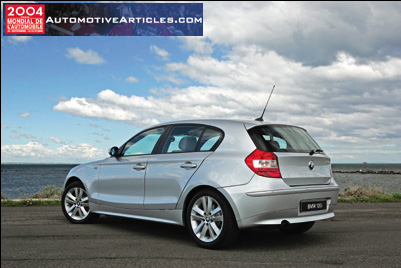 BMW 1-Series. Courtesy: BMW AG

While generous interior room is not something BMW is known for, the 1-series should provide adequate space for four passengers and their stuff, though the RWD setup will likely rob some room. The seats were set up to provide great comfort over long distances, and the edgy interior styling should keep things interesting for those cross-continent journeys. Keyless entry, Bluetooth interface, Park Distance Control, and high performance audio and navigation systems operated by BMW's infamous iDrive system round out just a partial list of available goodies. Of course, a blanketing system of airbags (including head bags for every seating position) should protect passengers should BMW's DSC Dynamic Stability Control, DBC Dynamic Brake Control, and Electronic Differential Lock not be able to help you avoid an accident.

Officially, there are no plans to bring any of the 1-Series models or its derivatives to America. Unofficially, things are less certain. Clearly, the idea of a sub-$30,000 BMW is an appealing one. However, some worry that a "cheap BMW" could undermine the company's image – especially if the vehicle feels cheap in any way. If Audi can do it, BMW can. Why not let