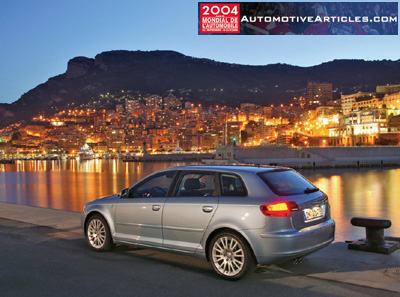 Audi A3 Sportback. Courtesy: Audi AG

Looking for a premium-badged vehicle but don't quite have the cash for a BMW 3 Series or Audi A4? Well get your checkbooks ready for the new Audi A3 Sportback. Like the Mercedes Benz C-Class sport coupe and the little-loved BMW 318ti before it, the A3 is going after a new set of buyers yet unable to afford the price of a stripped entry-level 325i or A4 1.8T.

The market for this type of vehicle is currently fairly small, at least in America, with main competition coming from Volvo's S40/V40 sedan and wagon, Acura's RSX coupe and TSX sedan, Saab's Imprezza-based 9-2X, and others. All of the aforementioned are generally compact in size and theoretically available for under $30k. It's a market that, just last year, looked ready to explode with new entrants from BMW, Mercedes, and even Infiniti. However, as the economy slowed BMW and Mercedes both seem to have backed down from plans to bring the 1-Series and A-Class models, at least for the moment.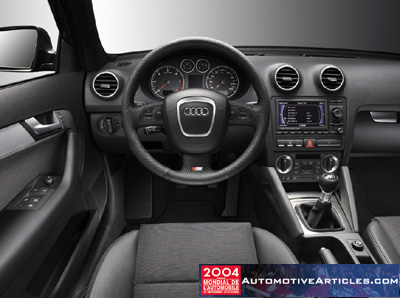 Audi A3 Sportback. Courtesy: Audi AG

Audi, never one to follow in the direct footsteps of its German counterparts, is forging ahead with plans for a United States introduction of the latest generation of their A3 subcompact. You can surely bet that many in the industry will be watching – success for the A3 could mean a slew of compact, fairly affordable luxo-machines for us.

Of course, Audi has to get a lot of things right in order to have such a hit. It has to look good. It has to drive well. It cannot seem cheap. Most importantly, it has to have the right price. Word is the starting price for the new A3 five door will be around $25,000 – not bad, but things must stay fairly reasonable even as buyers load up the options. If you end up having to pay $40,000 for a nicely loaded version, the purpose of an "affordable Audi" is somewhat defeated. Why not just buy an A4 instead? You hear that Volvo?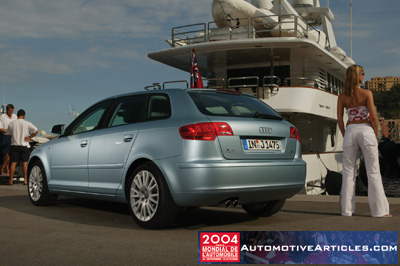 Audi A3 Sportback. Courtesy: Audi AG

When it comes to looks, Audi is definitely taking something of a risk with the A3 Sportback. It is, essentially, a five-door hatchback/wagon – a bodystyle that isn't exactly popular amongst the masses in America unless it's hiked five feet above the ground and shod with loads of plastic cladding and meaty tires. Certainly, this is no SUV – though it will come with Audi's well-regarded quattro all wheel drive. Still, slowly but surely wagons appear to be making a comeback – just don't call them that. In the case of the A3 five door, Audi uses the name "Sportback." Whatever. It isn't at all bad, by Sportback standards, though some people will likely take exception with the gaping mouth of a grille – a new Audi standard. Dimensionally, the A3 is actually smaller than a WRX/9-2X or Mazda3, two of the A3 Sportback's main competitors.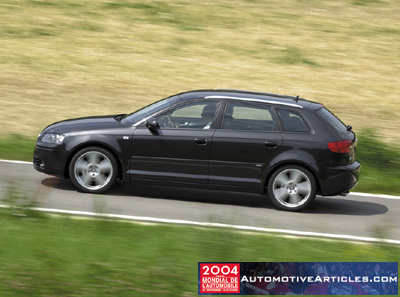 Audi A3 Sportback. Courtesy: Audi AG

Based on the new-generation VW Golf platform, the A3 uses a similar four-wheel independent suspension setup along with extensive use of aluminum components to reduce weight. Two engines will be offered in America, while a total of seven are available in Europe. The standard choice stateside will be a 2.0L direct-injection turbocharged 4-cylinder with 200hp and 207ft-lbs of torque. The 2.0T replaced VW's venerable 1.8T and ups power by 20% in the process. The most exciting choice, at least until high-performance S3 variants debut, will be the 3.2L 6-cylinder option with 250hp – currently seen in the TT 3.2. When connected to a six-speed manual and quattro, the 3.2 is expected to give the WRX wagon a run for its money.

Inside, Audi's tradition of providing top-notch quality should provide one of the nicest interiors this side of $30 grand. The design is a mix of flavors from the current A4 and the TT coupe/roadster. Round air vents are highlighted with real aluminum trim, along with real metal on door handles and other touch points. Considering this is a luxury brand vehicle, it's not surprising that the A3 will come with enough airbags to just about take the vehicle airborne, if need be.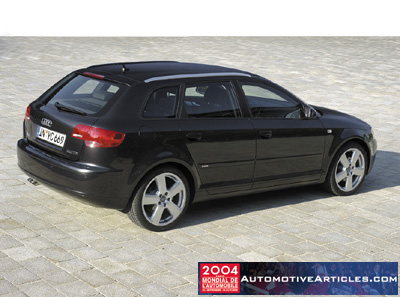 Audi A3 Sportback. Courtesy: Audi AG

The first A3s should be hitting US dealers by May of next year, though they'll only be available in FWD 2.0T variants until 3.2T quattro models come out in March 2006. Starting at $25,000 for a base model with cloth seats, dual zone HVAC, a raft of airbags, and 17-inch wheels; prices could easily balloon into the mid $30,000s with expensive options like the F1-inspired DSG transmission, a navigation system, and an expansive moonroof. Audi is hoping for annual North American sales of around 18,000 A3s.

Certainly, Audi has its work cut out for it. Not only do they have to try and convince people to buy their "cheap luxury car," but also they are trying to do it with a wagon – a vehicle with an image almost as bad as the minivan in this country. But hey, Dodge is making it work with the Magnum and Mazda's been doing well with its 3 hatchback. It's also nice to see an automaker go the other direction and create something other than a two-ton SUV. Compact models from luxury brands have been popular for years in Europe, so if the A3 succeeds in America, we could see an entirely new era for the middle, and most popular, segment of vehicles in the United States. What would you rather have, a $25,000 Audi or a $25,000 Camry?