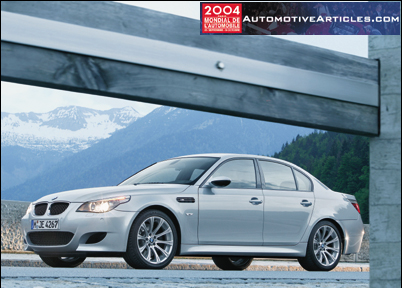 BMW M5. Courtesy: BMW AG

A consonant and an odd number: M5. Simple enough, yet these two digits hold enough power to make just about any red-blooded car enthusiast mess himself. The previous generation M5 with its superb V8 and six speed manual transmission was, simply put, the ultimate sports sedan in the world. With its balance of refined luxury and its ability to embarrass the owners of some exotic sports cars, the M5 has definitely earned its place in the automotive hall of fame. If you were BMW, how would you go about replacing this modern legend?

With a big old V10, that's how! You also get controversial American designer Chris Bangle's team to add a bit of lipstick to an already debate-provoking design. But screw what it looks like, let's talk power. The new M5, according to the company, is the most powerful production vehicle in the BMW lineup. Considering this is a family of vehicles that don't exactly have any problems in the power department, to be at the top of this gene pool is quite a feat. How much so, you ask? Think 507hp and 384 ft-lbs of torque out of this 5.0L beast with an 8,250rpm redline. That's an increase in performance by over 25%, not to mention that this V10 tops the oh-so-wonderful 100hp per liter mark.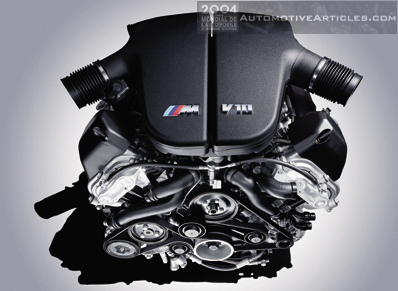 BMW M5. Courtesy: BMW AG

Lets talk nuts and bolts for a moment. The V10 features two banks of five cylinders arranged at a 90 degree angle with a crankshaft drive optimized for lower vibration and improved comfort. Because of the stress owners are expected to place on this engine, BMW went with a bedplate design for the crankcase – a first for any of the company's production V engines. Grey-cast iron inserts are integrated into the aluminum bedplate to improve acoustics and ensure high oil flow. The high-strength crankshaft is supported by six bearings. BMW's bi-VANOS variable valve timing system keeps emissions in check despite the engines high performance tuning. Each cylinder has its own throttle, the control of which is electronic and cylinder bank specific.

The exhaust system is made of seamless stainless steel with a dual-flow design all the way to the mufflers, where they exit out through M-trademark four tailpipes. In the United States, the M5 is expected to meet LEV2 emissions standards. Ionic current technology is used by the engine management unit to detect engine knock, misfiring, and combustion misses. Essentially, the system uses the spark plug as an actuator for the ignition and as a sensor for monitoring the combustion process.

Replacing the previous M5's six-speed manual will be an all-new seven-speed (the world's first) sequential gearbox, aka SMG. Considering the V10's high-revving nature, the short-spaced shift times should allow the driver to wring the most out of this sedan's 8,250rpm redline. This being an SMG transmission, an automatic-shift feature will be available for those times when you're sitting on the 10 freeway, crawling your way into Los Angeles (which Southern Californians know is, basically, every day). As good as the SMG may be, you can imagine some diehards are lamenting the loss of a true manual transmission. However, when this beast goes from 0-62mph in 4.7 seconds (according to BMW), who really gives a damn? The 124mph mark is reached in a very quick 15 seconds while the top speed is an electronically-limited 155mph. BMW boasts the M5 could top out at 205mph if it wasn't for the damn computer. Paging big, angry mob: Bill Gates needs you in room 5. Thanks.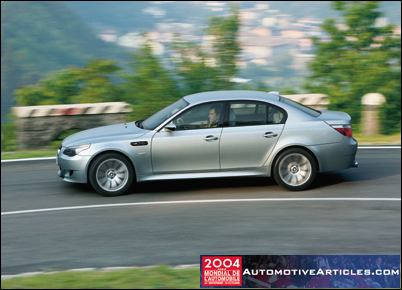 BMW M5. Courtesy: BMW AG

As is all the rage these days, the new M5 has been tested on (and designed with input from what was learned on) the north loop of the legendary Nurburgring race track in Germany. The results are lap times of around 8 minutes. It should be noted that all M vehicles have been tested here, not just recent ones. Note to Cadillac, this one's for you. Though this is essentially a 5-series on crack, no one will be able to say that this is just your ordinary 525i. All of the handling systems and electronic assistants have either been exclusively designed for the M5, or substantially redesigned from their more plebian roots.

For starters, there's an exclusive variable, torque-sensing differential lock for optimum traction, especially coming out of corners. BMW's Dynamic Stability Control (DSC) comes with two selectable driving styles: one similar to the typical 5-series, and the M Dynamic Mode that allows for sporting maneuvers while still standing by to save your sorry ass should things get a little out of control. Of course, DSC can also be deactivated at the press of a button. Likewise, the M5's Electronic Damper Control (EDC) allows the driver to select three levels of electronic suspension tuning (comfort, normal, sport) – no longer does buying a sports car mean a constant kidney pounding ride. Unless, of course, you like that kind of stuff. The large brakes and twin-piston sliding calipers (similar to those in the 7-series) are expected to bring the M5 from 62mph to 0 in under 36 meters.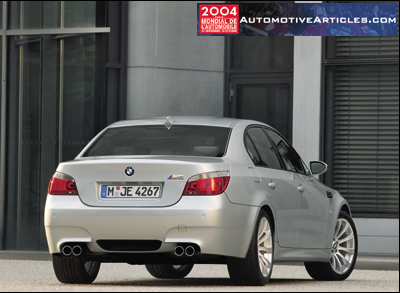 BMW M5. Courtesy: BMW AG

Exclusive M5 design details include revised front, rear, and side treatments along with the M-typical new side mirrors, quad exhaust tips, and large wheels. Like the M3, the M5 now sports "gills" incorporated into the front side fenders. The interior features new leather colors, a new steering wheel, new center instrument panel treatments, and new gauges. In the end, it's going to come down to whether or not you like Bangle's style – no amount of M dress-up is going to save the 5-Series' design if you hate it already. Likewise, if you love it, this will likely only make you even more infatuated.

Whatever you think about Chris Bangle, iDrive, and the rest of the "new" BMW lineup, the M5 is still a force to be reckoned with. To some, it may not have that classically aggressive look of past, but it's certainly got the balls to back up its unique looks. I started this article writing about a letter and a number. I'll end it with another letter and two more numbers. V10. That's all that matters.