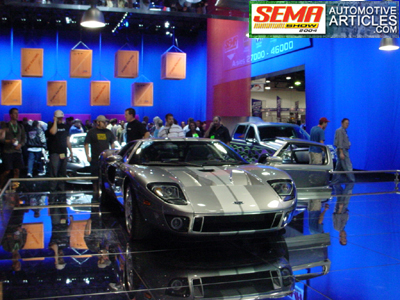 Ford Motor Company at SEMA 2004

If there was one single company with an overwhelming presence at SEMA 2004 in Las Vegas, that company would indisputably be Ford Motor Company. As a major sponsor of the show, the Ford name could not be escaped whether you were inside or outside of the Las Vegas Convention Center. Add in the grand Ford Motor Company "booth" bathed in blue and the substantial amount of new Mustangs scattered around the show and it is unmistakable that Ford came to play.

It could not have come at a more critical time for Ford, with the launch of its mass-volume performance vehicle – the Mustang, happening at around the same time as the SEMA Show. The new Mustang represents an attempt at capturing an entirely new audience for the decades' old nameplate. The last few generations of Mustang haven't exactly been known for their refinement, whether that be in suspension dynamics or interior quality. Instead, they used a big 'ole V8 to get attention. As such, the Mustang hasn't exactly attracted people interested in plush interiors or nimble handling.

Ford wants to change that somewhat with the new Mustang. They've started with a sleek exterior design reminiscent of the first Mustangs. The interior also recalls the 'Stang of yore, and that means it's a considerable step up from any of the most recent generations. The engines and suspension have also been redesigned in an attempt to step up the car's quality image and expand enthusiasm for one of the most well-known brands in America.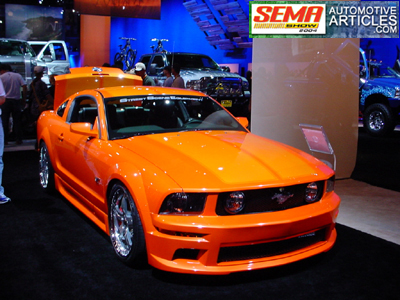 Ford Motor Company at SEMA 2004

Part of the effort appears to be whoring out the 'Stang to just about anyone who will tune it. You couldn't turn around without seeing the retro-style Mustang anywhere at SEMA. Nowhere was that more evident than at the FoMoCo booth. On hand were no less than a dozen coupes, all tuned by various companies in an attempt to show just what can be done with Ford's new baby. The bonspeed "Black Rose" added touches of red to an otherwise black vehicle, including buffalo-red leather. Of course, the Vortech supercharger, Borla exhaust, Koni shocks and struts, Eibach springs, and bonspeed 20-inch forged alloy wheels only back up this horse's evil looks.

The H&R Special Springs Mustang was "built for speed, and designed for quick handling." That means a Flowmaster exhaust, H&R race springs and TCCC camber bolts, H&R sway bars – 38mm front and 25mm rear, Baer Racing Extreme-Plus brakes, and some custom suspension bits fabricated just for this concept. The MRT Interceptor by Mustang Racing Technology features a custom intake manifold and valve covers by The Kandy Shop, a Paxton supercharger kit, custom CPR billet aluminum fuel rails, MRT Street Performance suspension kit and performance chassis components, and stainless steel brakes.

Roush Performance's Mustang was certainly drawing its share of attention with its aggressive bodykit and rolling stock backed up by legit performance bits – including the Roush supercharger system with Eaton internals, Roush performance suspension (shocks, springs, sway bars and control arms, and Roush and Alcon brakes (14 inch front rotors, 12 inch rears).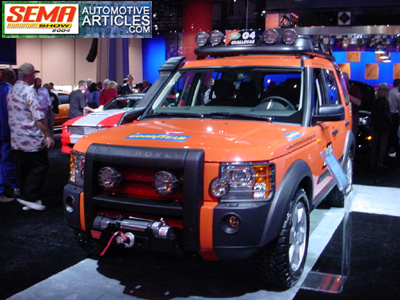 Ford Motor Company at SEMA 2004

Land Rover showed off its new LR3 (replacing the Discovery) complete with a full set of available custom bits. All accessories will be sold through Land Rover dealers for those who truly do plan on taking these expensive beasts off the beaten path. If you so choose, you can pick out an "A" frame protection bar, driving lamps, WARN winch, front and rear lamp guards, Expedition roof rack, raised air intake, raised access ladder, and Goodyear tires.

Since ditching its long-standard refrigerator-inspired designs, Volvo has been aggressively courting young and enthusiastic drivers. The new S40 and V50 compacts have only added an exclamation point to that pursuit, legitimately placing Volvo in direct competition with the Audi A4, Acura TSX, and BMW 325i. Perhaps the most visually attractive SEMA Volvo was the V50 SV wagon, designed by Volvo's Specialty Vehicles department in Sweden and Volvo Monitoring and Concept Center in Camarillo, CA. The 2.5L turbocharged 5-cylinder has been highly tuned to a full 340 horsepower. The electronic all wheel drive and six-speed manual transmission round out this beautiful blue sportwagon's drool-inducing package.

The Evolve S40 is the wagon counterpart to the V50, and it features a downright amazing 425 horsepower sent through a Haldex all wheel drive system. Making sure this silver bullet can be brought back down from speed, Evolve fitted the S40 with 15-inch disc brakes with 8-piston aluminum brake calipers. Two words: holy hell.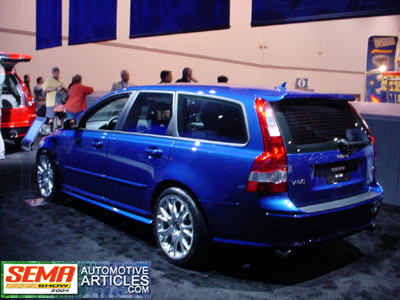 Ford Motor Company at SEMA 2004

First unveiled at the Paris Auto Show, the Yamaha-designed-V8-powered XC90 gets a little extra hot sauce for Las Vegas. The XC90 Power Utility Vehicle gets a lowered stance and aggressive bodykit, as well as a highly retuned engine reportedly capable of a screaming 650 horsepower through a six-speed automatic and all wheel drive. Porsche Cayenne owners, be warned.

Whether or not any of this ever makes it to market, one thing is clear. Ford Motor Company is not afraid to spend whatever it takes to showcase the possibilities of its vast stable of products. From Volvo, to Jaguar, to Mazda, to Mercury, the Ford Motor Company booth was the place where dreams ran wild at SEMA 2004.

Editor's Note: Check out this article's related forum on AutomotiveForums.com for a special super gallery of Ford Motor Company at the SEMA Show 2004 from Las Vegas, NV. Just click the link below.