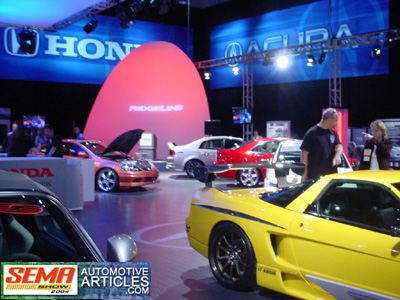 Honda and Acura Booth at SEMA

The Honda and Acura brands are two names that have long-been associated with aftermarket products and the SEMA Show, and for obvious reasons. Throughout the 90s, young enthusiasts in Southern California and beyond picked Honda as the company of choice because of their simple, lightweight, and relatively affordable models like the Civic an Integra. They sparked a tuner revolution that has been likened to the muscle car heyday of Detroit.

Even though the market has somewhat moved on to newer models like the Nissan 350Z and Scion tC, Honda and Acura models still hold their own at SEMA. No place is that more evident than at the official Honda/Acura "booth" – which is more like a stage at the Los Angeles Auto Show with its scattering of new vehicles. The two most significant vehicles there were the A-SPEC Acura RL and the concept version of the Honda Ridgeline truck. Some other cars, including the RealTime Racing Acura TSX driven by Pierre Kleinubing in the SCCA Pro Racing SPEED World Challenge circuit, also populated the Honda stand.

More on them later, let's first take a look at the A-SPEC RL. Like the RSX, TSX, and TL before it, the redesigned RL looks to up the ante against performance-minded luxury brands in the United States. Though Acura is not going as far as AMG or BMW's M division, they are offering buyers the chance to make their cars a bit more road-capable. Though one wonders how many people will actually opt for performance goodies on an RL, Acura sure thinks there's a large enough group of buyers out there willing to shell out $5,500 for the full A-SPEC package plus dealer installation.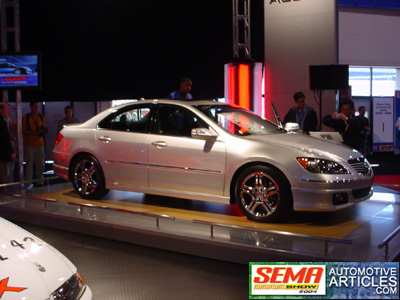 Acura RL A-SPEC

So, what does $5,500+ get you? Mostly handling goodies and look-good parts. Not to belittle the A-SPEC package in any way. The RL already has 300hp as it is. The "track-tuned" suspension package lowers the car by about ¾ of an inch and should enhance the SH-AWD assisted handling. Special 18-inch alloy wheels come wrapped in Michelin Pilot Sport tires. An understated and tasteful underbody kit and decklid lip spoiler round out the RL A-SPEC. For the critics who claim that Acura's A-SPEC packages are often overpriced compared to true aftermarket parts, think about this: just how big of an aftermarket is going to be there for a large luxury sedan that has absolutely no reputation for performance in its past (not counting the Legend, of course)?

Also at the Honda stand was the Comptech TSX. It features a supercharger for the 2.4L four-cylinder TSX engine along with a cold air intake and a stainless header and exhaust system. The end result: an increase of 40hp, from 200 to 240. Comptech springs, a rear sway bar, and 18-inch tires improve an already well-tuned handling package. Sign. Me. Up.

Finally, Acura had a heavily modified NSX customized by Super Street Magazine and XMODS RC Racing. Offered as a first prize in the 2004 XMODS XRL National Tournament, this NSX features over $30,000 in mods from Volk, Rotora, Taitec, and more.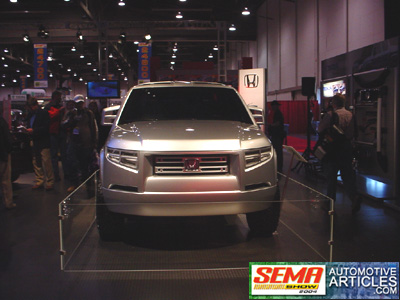 Honda Ridgeline Concept

One vehicle of interest to the tuner world is Honda's first truck. Officially named Ridgeline, this new 4WD 4-door is likely to be based on a variant of the MDX/Pilot/Odyssey platform and will be powered by Honda's 3.5L V6. Though not a direct shot at the full-size truck market, it will be interesting to see all of the aftermarket accessories that will be developed for the Ridgeline. The production version of the Ridgeline will debut at the 2005 North American International Auto Show in January.

The most interesting thing I noticed at SEMA, in regards to Honda, was the lack of Honda models dominating the show floor. Yes, they had their presence – but the market seems to have moved on to the "next big thing(s)." New Mustangs were everywhere, as were Chrysler 300s (with gull wing doors) and Dodge Magnums. There has been talk for quite some time that the latest generation of Honda Civic and Acura RSX has not quite impressed hell-bent tuners like older models have. It will be interesting to see what Honda does to try and recapture a bit of that momentum, if they even want to.

Editors Note: Be sure to check out the "Discuss this article" link below for more pictures of Honda and Acura at SEMA.