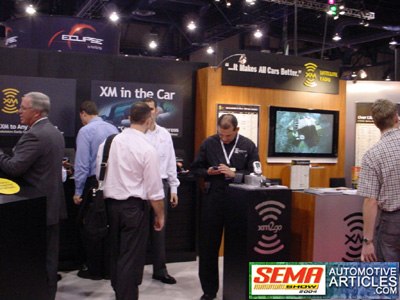 XM at SEMA

You might be asking, what does talk of XM Satellite Radio and iPods have do with SEMA Show coverage on an automotive site? Well, just think about it. How often do you actually drive in your car WITHOUT music or talk radio? If you live in an urban area like Southern California, you can spend hours A DAY stuck in your car in the parking lot we call an interstate system. Imagine surviving that without radio. Personally, I would have gone absolutely nuts on the 4-and-a-half hour mind-numbing drive from my home in Palm Springs, through the San Bernardino County desert, to Las Vegas for the SEMA Show without CDs and XM. Or how about the 8-hour drive through Central California (farm, farm, farm, cow, farm…) to Sacramento or San Francisco? You get the point, I hope.

Simply put, it makes sense for XM to be at SEMA, and 2004 marked their first official appearance at the show. They, along with their equipment partner Delphi, came to SEMA to play ball. Obviously, their intent was to sign up more retailers. According to XM officials at the show, they hoped to get 50 more distribution outlets while at the show – they did that in the first day alone. Helping things along have been a slew of major announcements by both XM and rival Sirius that have focused national attention on the satellite radio industry. Some of these include deals to bring New York DJs Opie & Anthony and former NPR newsman Bob Edwards to XM. More recently, Sirius announced a $500 million deal to bring shock jock Howard Stern to their airwaves exclusively for five years, which was quickly followed up by a $650 million 11-year deal that brings every Major League Baseball game exclusively to XM.

However, the biggest draw to XM and Delphi's booths at SEMA was not some newly signed celebrity. It was a new receiver that's set to open up a whole new world for satellite radio and heat up the battle with Apple's iPod in the personal electronics segment. The new Delphi Myfi "XM2go" portable receiver is, essentially, the world's first true purpose-built satellite radio Walkman. With the Myfi, XM and Delphi are taking satellite radio beyond the home and the car while making it easier to use in both. With its premium price ($349.99 MSRP – more about that in a minute) and overall footprint similar to Apple's iPod (though it is somewhat thicker), market analysts are already pitting this against the trendy segment benchmark.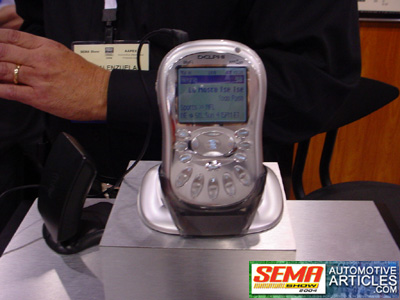 XM Delphi Myfi at SEMA

Unlike iPod knockoffs, the Myfi goes about giving you your music fix in quite a different way. With iPod and MP3 players, the owner is forced to select and download his music selection from the internet – by either legal or illegal methods. If you choose Apple's iTunes music store, it'll cost you $.99 a song. Delphi's Myfi system doesn't give you the option of picking your exact song or playlist, but it does give you access to XM Satellite Radio's full list of 130 music, talk, news, sports, and weather/traffic channels for the standard $9.99 a month fee – about the same or less than the cost of one CD. On top of that, Myfi gives you TiVo-like time-shifting capabilities. Using built-in memory, you can press the "XM2go" button and instantly start recording up to 5 hours of XM programming. Or place the Myfi on its home dock and program it to automatically record your favorite show. Then, you can replay your recorded audio whenever you want – or when you're in an area where you cannot receive a direct signal from one of XM's satellites or ground-based repeaters.

Imitation is not always the best way to topple the market leader. Automakers have tried it and failed. But as the Chrysler 300 shows – when you take a widely accepted product and apply your own philosophy to it, you can hit one out of the park. That's what the Myfi could do, according to some in the industry. Like the iPod, it's an expensive way to take your music with you on the go. Unlike the multitude of iPod clones, it's not just another MP3 player. Instead of going through the work of compiling your own stockpile of music, Myfi gives you access to about 60 commercial-free XM music channels and the human touch that comes from their (often) live DJs. On top of that, you get access to live sports and news events – something just not possible on an iPod. The downside is that you don't get to pick which song you want to hear, when you want to hear it (unless you have it recorded via the XM2go feature). Simply put, it's a difference in philosophy and buyers are going to make their choice based on what they like best – if they don't cough up the cash for both. Your music, on demand, whenever you want it; or music and live events provided by someone else – perhaps exposing you to something new that you'd like but wouldn't get on your predetermined iPod playlist.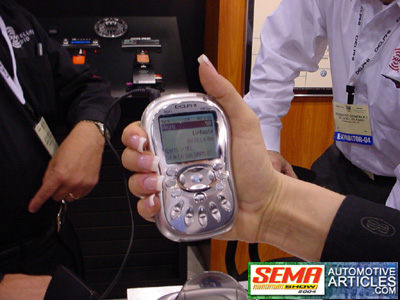 XM Rep Models a Myfi for AA

As a jogger and XM subscriber (and soon-to-be Sirius subscriber), I personally have been waiting for the chance to take XM with me wherever I go. On top of that, Myfi gives me the ability (at least theoretically) to just toss it onto the passenger seat and listen to XM on my car's audio system with the wireless FM transmitter without the need for any hardwiring. Yes, at $350, it's expensive. But so is a top of the line iPod model. Plus, the Myfi includes the complete home and car kits, earbuds, rechargeable 5-hour battery, belt-clip/stand, carrying case, and remote control. Those home and car kits alone can run you $70 each for Delphi's Skyfi receiver. Plus XM representatives tell me that the Myfi will eventually be available without all of the extras, presumably at a lower price.

So in the coming Myfi vs. iPod battle (Myfi goes on sale before Christmas), the question is not which is better. Clearly, the iPod is the better choice if you want ultimate control of your musical consumption. If you want live content, the surprise of not knowing what song is going to be next, and exposure to new music, Myfi is probably the way to go. It's a matter of personal preference, and XM is betting there is a good chunk of consumers out there just waiting for a product like this. Whatever your choice, we all can agree that the right tunes coming out of a good sound system can make just about any drive that much more worthwhile.