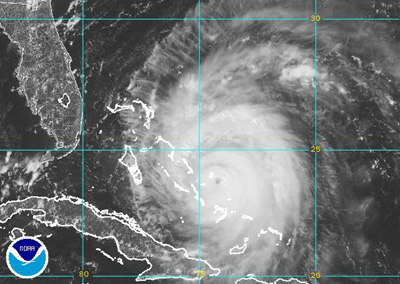 Hurricane Frances as of Sept. 02. Courtesy: NOAA

The nation's top two automakers reported down sales for the third straight month today, according to Reuters. General Motors and Ford both saw demand for their aging lineup of cars slip 7 percent and 5.9 percent, respectively, as consumers continued to shift toward rival Chrysler and the foreign brands.

Perhaps the most trouble news from GM and Ford is that continued weak demand will force them to make costly cuts to production. It appears the companies may have reached the limits of their incentives push, but the prospect of idled factories has cast a shadow on the industry. Parts suppliers, in particular, are worried about the impact of lower sales to GM and Ford and what it will mean to their bottom line.

Certainly, other factors have played a part in August's drop in sales, which amounted to a 5.4 percent decrease industry-wide. Hurricane Charley, rising energy prices, and lagging consumer confidence all were blamed for overcoming the extreme levels of incentives offered throughout the industry.

"Disappointing job gains over the last few months, combined with higher energy prices, is making life difficult for consumers just as the benefits from last year's tax cuts fade," Ford economist Jarlath Costello told Reuters. With Hurricane Frances (a category 4 as of this writing) poised to make landfall somewhere along the eastern seaboard, that region isn't expected to get back into the "car buying" mood anytime soon.

Unlike its US brethren, the Chrysler Group again reported higher sales – thanks largely to the wildly popular Chrysler 300 and it Dodge Magnum wagon counterpart. August's 1 percent sales growth marked the division's fifth straight month of positive numbers. The Mercedes side of DaimlerChrysler saw sales rise 10.5 percent.

The foreign brands returned mixed results. Toyota saw sales drop 2.8 percent, though the company beat the Chrysler group (sans Mercedes) for the second straight month – 180,394 units to 178,034 units. Nissan was up 7.3 percent, though its Infiniti luxury division was down 6.2 percent. BMW AG was up 6.2 percent while Honda was down a surprising 7.1 percent. The problems at Mitsubishi continue, with August sales down a full 57.7 percent. Volkswagen AG's aging lineup contributed to a 24.2 percent drop in sales.

Back at GM and Ford, the two automakers are expected to cut fourth-quarter production targets by 6.8 percent and 7.8 percent versus last year. Not unexpectedly, Ford's Jaguar unit announced plans earlier in the week to cut production in England.

Some in the industry predict even more cuts into next year. "We're starting to see a slowdown," said Jim Sourges, vice president of Capgemini told Reuters. "I think there are going to be deals on the table for the consumer, as the inventory sits there, and they have to move that metal."

Incentives are currently averaging out to about $4,200 per vehicle. Overall seasonally adjusted annual sales rates were at about 16.6 million units, down from July's strong 17.2 million and 17.9 last August. All sales were adjusted for two less selling days this August versus August of 2003.