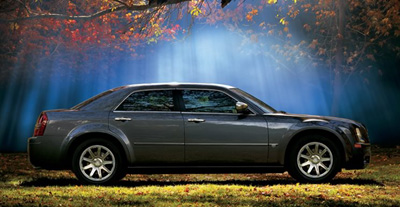 Chrysler 300C Courtesy: Chrysler Group

After an unexpectedly slow month in June, new car sales in the United States rebounded sharply in July. Seasonally adjusted sales for the month came in at 17.3 million units compared to 15.4 million in June, though still slightly behind May's 17.8 million. Like months past, the biggest winners were import brands while domestic brands continue to watch their collective share of the market slip. According to Autodata Corp., Asian makes boosted their collective share to 35.3% of the market in July, a 2.1-point improvement and just .1 point away from a monthly record.

DaimlerChrysler's Chrysler Group (considered a member of Detroit's "Big 3") posted the domestics' only truly good results, with a 2.35% gain in sales during July versus the same month last year. This was thanks to strong sales of new models like the Chrysler 300 sedan, as car sales were up a whopping 22% in July. This is Chrysler's ninth year-to-year sales increase in 10 months.

GM posted its best sales month of the year to date, though sales were still down 3.4% to 451,505 units. A GM official told the New York Times that the company's market share hit 29% last month. Thanks in part to substantial incentives, GM's big sport-utes saw sales rise 11%.

The incentives race continues to be hot, with a GM official likening the current market to "hand-to-hand combat." However some in the market expect that to change, if only because there isn't much more room left to up incentives. Ford's chief sales analyst George Papas told NYT, "Zero-percent interest has become standard equipment on vehicles, like windshield wipers. Raising incentive levels more is throwing good money after bad."

As such, Ford has cut incentives on new models like the redesigned F-150 and expects more relief with models like the 500 and Freestyle set to launch soon. GM has been able to slash basic cash rebates on 2004 cars and trucks by an average of $500. But weaning the market off of this drug could be painful, as Ford's sales in July demonstrate. Despite it being Ford's best month of the year, sales fell 7.5% to 279,443 units. Ford's market share worked out to 18% for the month of July.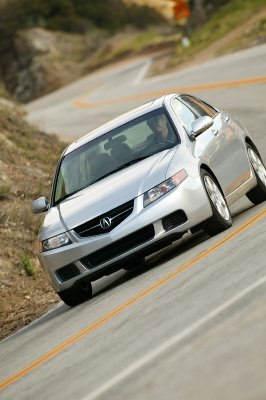 Acura TSX Courtesy: American Honda Motor Co., Inc

While the domestics were generally in a holding pattern - waiting for new products to lift sales and cut incentives – the Asian automakers were living it up. Toyota, Nissan, and Honda (aka Japan's "Big 3") all saw sales in the green, even though they upped their rebates to consumers to help drive those sales.

Toyota, commonly referred to as "the juggernaut," increased sales a full 13.6% in July to just over 200,000 units. Much of the gains came thanks to their hot new Sienna minivan and redesigned Prius hybrid sedan. Camry sales were also up. Interestingly, Toyota (with Scion and Lexus) outsold the Chrysler Group (sans Mercedes) by about 10,000 units last month.

Nissan, Japan's 2nd largest car company saw its best sales month ever, with a full 30% increase from July of last year to 93,321 units. The increase was thanks largely to the Titan full-size truck, which pulled in sales 8,762 units (with help from $1000 worth of incentives). Nissan's Infiniti G35 and Altima sedans also pulled in very strong numbers.

Honda's sales were up a much smaller 1%, thanks to an 8.1% increase at their luxury Acura division, with total company sales at 112,815 units. Sales of the bread-and-butter Accord and Civic were down for the month.