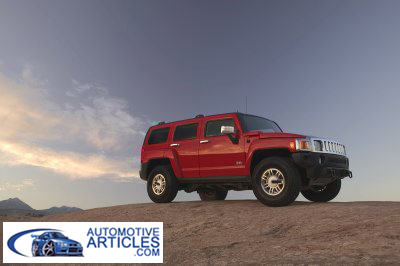 Hummer H3. Courtesy: GM

General Motors officially took the wraps off its successor to the surprisingly popular Hummer H2 this week at the California Auto Show in Anaheim. The Orange County city home to such things as Mickey, Goofy, Angels, and Mighty Ducks welcomed an entirely different kind of beast to their convention center: the Hummer H3, the smallest Hummer to date. With gas prices ever-threatening to skyrocket and H2 sales all-but collapsing as its "fad period" passes, the new "baby Hummer" could not have come at a better time. And with all of the large SUVs seen lumbering around "the OC," the debut location could not have been more appropriate.

The first question you must be asking is, "just how much smaller is this truck?" The answer is that the H3 is 16.9 inches shorter in length, 6 inches shorter in height, and 6.5 inches narrower than an H2. GM says that equates to roughly the same length as your average midsize sedan, meaning the H3 "comfortably navigates city traffic," yeah, we'll believe it when we see it. Whereas the H2 is based on GM's full-size SUV platform (Tahoe, Escalade, Suburban, etc.), the H3 will be based on GM's mid-size truck platform (Canyon and Colorado).

"H3's arrival establishes an extraordinary new presence in the previously ordinary world of midsize SUVs," said Susan Docherty, Hummer general manager. "Hummer has developed a passionate following because of its unmatched style and capability, and the H3 extends that appeal by making the brand accessible to a broader range of potential owners."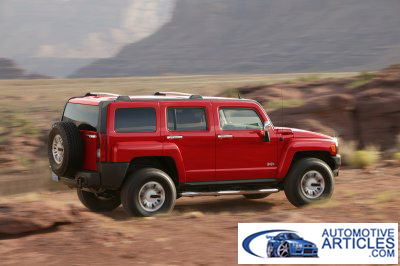 Hummer H3. Courtesy: GM

Being a Colorado spinoff, the H3 will be powered by the Vortec 3500 double overhead cam 3.5L inline five-cylinder engine. No, that's not a typo. This I5 delivers 220hp at 5600rpm and 225 ft-lbs of torque at 2800rpm. Besides being DOHC, this engine features variable valve timing, electronic throttle control and counter-rotating balance shafts to minimize noise, vibration, and harshness. Interestingly, this will be the first Hummer to come standard with a five-speed manual transmission, though a four-speed "Hydra-Matic" automatic transmission will be available.

The H3 will come standard with a new Borg-Warner two-speed electrically controlled full-time four-wheel drive system featuring a 2.64:1 ratio low-range gear reduction for enhanced off-road control. Optional will be an even more aggressive low range gearing set – 4.03:1 – for those who truly intend to take this little Hummer off the beaten path.

It is interesting to see how General Motors attempts to present the new H3 as a tough off-roader with the ability to make you feel comfortable when you're back on the tarmac which, let's face it, is probably 90% of the time at least. For those tough between-the-compacts-and-around-the-five-year-old mini-mall parking lot maneuvers, the H3 features a turning radius of about 37ft. At the same time, GM boasts that the H3 can ford 16 inches of water at 20mph or 24-inch streams at 5mph, plus it can climb 16-inch vertical steps and rocks – perfect for those damned parking stall dividers.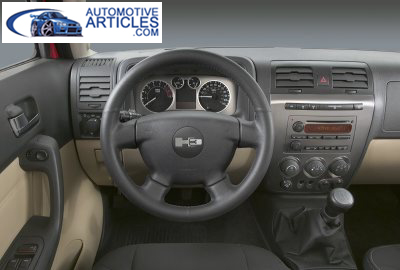 Hummer H3. Courtesy: GM

The backbone contributing to the H3's off-road abilities is a fully welded ladder frame, with a modular three-piece design incorporating fully boxed components. An independent front SLA torsion bar suspension and a "Hotchkiss" multi-link, semi-elliptic, single-stage leaf spring rear setup contributes to what GM calls "excellent on-highway comfort and outstanding off-road capability." An optional Off-Road Adventure package toughens things up a bit, whether you actually use it or just want people to think you do. There are four standard underbody protective "shields," including the front skid plate, oil pan skid plate transfer case shield and fuel tank shield. Optional chassis-bolted rocker panel protectors should help things if you really want to go boulder-hopping. Finally, GM's StabiliTrak vehicle stability control should keep things somewhat safe while you're on the blacktop.

This being a Hummer, design is very important. It has to look the part – and the H3 certainly does. Some would be hard-pressed to differentiate the exterior looks of the H3 from big-brother H2, at least in pictures. The upright profile, large rolling stock (up to 33-inch tires), and square windows immediately let you know this is a Hummer. But would you have it any other way?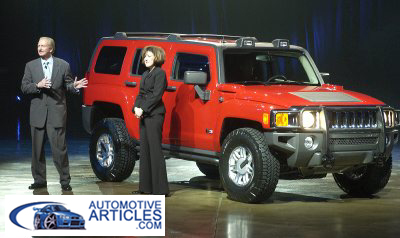 GM Pres. Gary Cowger & Hummer GM Susan Docherty. Courtesy: GM

The interior, on the other hand, is very softly designed for anything that's ever carried the Hummer badge. The perforated leather-wrapped steering wheel, brushed-aluminum trim plates, chrome accents, and stylized vents clearly let you know that this isn't just a utilitarian truck. The available OnStar system, XM Satellite Radio, and DVD-based navigation system with a 6.5-inch LCD screen only further that point. While the quality of materials used (a big issue with the H2) can't yet be determined, things certainly look promising.

Clearly, GM knows that even the H2 was a bit too truck-ish for the majority of buyers – most of whom likely bought the vehicle based on image alone. As such, when they had to deal with the downsides of owning a truck (bad fuel economy, cheap interior, harsh ride), they not-surprisingly ranked the Hummer brand pretty low on satisfaction surveys. The new H3 looks to fix things. Finally, consumers may be able to have their cake and eat it too. It's a Hummer that's soft on the inside, hard on the outside. Not to mention it should be more affordable, as well. The Earth Liberation Front must be throwing a fit. The H3 goes on sale this spring.