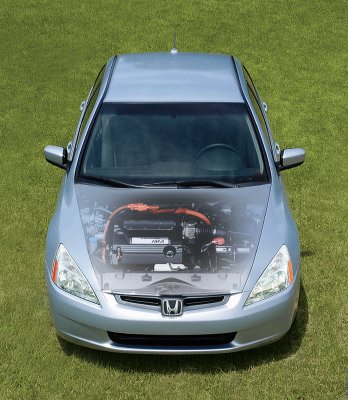 Courtesy: American Honda Motor Co., Inc.

As American car companies continue to up their incentives per vehicle to draw in customers, many automakers thought to be immune from the incentives cancer are being drawn into the game. The latest example is Honda Motor Company, which not long ago laughed at the idea of paying people to buy their cars as people lined up outside dealerships for such hot models as the Odyssey minivan and Acura MDX luxury-SUV.

Today, Honda is facing stiff competition in just about every segment that they compete in. Toyota's Sienna is now the minivan of choice, often with Odyssey-like waiting lists at many dealers. Nissan's new Quest is also taking a share of the segment where the company has not strongly competed in the past. Honda's Accord is new though it still faces tough competition from perennial rival, the Toyota Camry. Since its 2002 remake, the Nissan Altima has also been stealing away performance-minded buyers. Volkswagen's Passat and Mazda's 6 have also taken their respective niches in the midsize sedan segment. The compact Civic, with a redesigned suspension many enthusiasts decried as a cost-cutting measure, has lost much of its cache as strong rivals like the Mazda3, Toyota Corolla, VW Jetta, Ford Focus, and even BMW Mini are eating away at Honda's once dominant hold of the small-car market.

To fend off newer competitors, and the overall rise of average incentives per vehicle, Honda has more than doubled what it offered for incentives from last year, up from $479 to $1,011 per vehicle. Often times this money isn't offered directly to the customer, but rather as "dealer cash," which allows salesmen to dip lower during negotiations without cutting into their dealership's profit.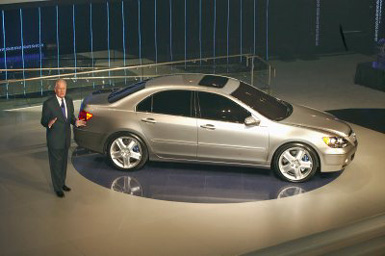 Courtesy: American Honda Motor Co., Inc

To Honda's credit, sales are up 3% in the first quarter of 2004 whereas the overall market was up only 2.2% versus the year prior. However, the increased use of incentives is expected to chip into Honda America's profits, as is the weakness of the US dollar in comparison to the Japanese yen. As such, the company expects a 10% drop in yearly earnings for 2004. This is despite a 19% rise in sales of the Acura luxury division, up on favorable sales of the new TL and TSX sedans.

The future looks bright, if Honda hits a few more homeruns like it has with Acura. A redesigned Odyssey is due in September, along with a hybrid Accord this fall. A new sport utility truck will join the lineup early next year, and a subcompact to slot below the Civic will follow sometime after. On the prestige side, a new AWD Acura RL will be out in October to further that brand's image in the tough luxury market. In the meantime, competitors will be right there fighting for every customer. GM's Chevrolet Cobalt and Pontiac G6 both look like strong competitors to the Civic and Accord from a company that hasn't challenged Honda in quite some time. Ford's Fusion and 500 sedans also mean more competition.

Only one thing is assured in the coming months and years; competition is about to get a whole lot tougher and the buyer looks to be the real benefactor.