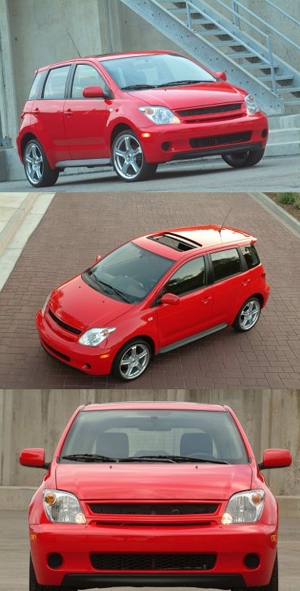 Courtesy: Toyota

Signaling Toyota's continued plans to attract the youth market with its Scion brand, word came down last week that 2005 would be the last year of production for the Celica and MR2. The news is not terribly surprising, as many expected the new Scion tC coupe would be competition for the Celica while the MR2 was always limited in sales numbers. Still, some expected the Celica name would continue on in some fashion. The Corolla, Matrix, and Echo are now left to chase young buyers on the lower end of the market for the Toyota brand with Scion expanding both in number of models and national reach.

In related news, Scion announced a new special edition version of its xA wagon. The xA, to refresh your memory, is the small wagon-looking model, not the refrigerator-like xB. Only 1550 units of the 2005 Scion xA Release Series 1.0 will be sold, starting this August. All xA Release Series 1.0s will feature the unique exterior color, "Absolutely Red," a special sport grille, rear spoiler, power slide/tilt sunroof, vehicle dynamic control with traction control, special black seating fabric with red highlights, and red interior lighting in the center storage compartment. Finally, specially numbered badges will be placed in the interior.

The Scion xA Release Series 1.0 package will add an additional $1,395 to the xA's $12,480 base price.